Fighting talk
Australia-based sports radio host Gus Worland and skysports.com's Rob Lancaster argue a case for either side ahead of the World Club Challenge between Leeds Rhinos and Melbourne Storm
Last Updated: 22/02/13 12:20pm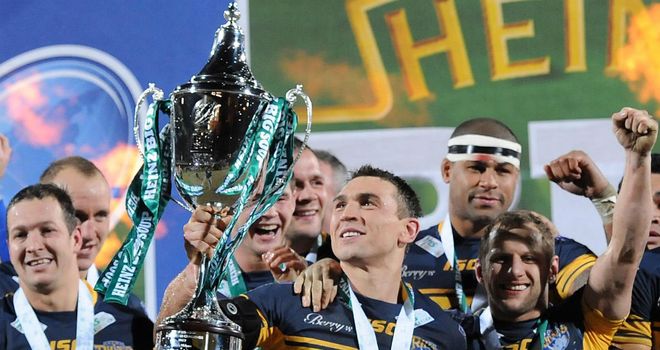 Leeds Rhinos will attempt to defend their World Club Challenge crown against Melbourne Storm in an unmissable rugby league showdown on Friday night.
In the build-up to the match, Sydney-based Aussie sports fanatic Gus Worland and skysports.com's rugby league writer Rob Lancaster make a case for either side reigning supreme at Headingley Stadium.
For the full, explicit version, listen to the podchat here
skysports.com - We have the best playing the best on Sky Sports 1 HD on Friday night as Super League champions Leeds Rhinos attempt to defend their World Challenge Club crown against NRL kings Melbourne Storm. Gus, the match is getting plenty of build-up over here, but how much are the Australian public looking forward to this one?
Gus: Well I'll answer that in a second mate because the best of the best is not an Australian team playing a Super League team! When Queensland play New South Wales that's when the best play the best. I don't think anything to do with England or Great Britain has the best of the best!
Rob: Here he goes, straight away!
Gus: Haha, well we're looking forward to it because we have had a pretty ordinary summer; Australia (cricket) had Sri Lanka and South Africa out here with mixed results. We had the West Indies here for one-day matches so we have not had as exciting a summer as we are used to, which means we have been looking forward to the footy season even more. We have got this game on the weekend, we have got the Charity Shield here in Australia and a few more trials before the big stuff (the NRL) starts in a couple of weeks' time. We are looking forward to it; even non-Melbourne fans will be supporting the Storm against Leeds this weekend.
Skysports.com - Talk us through some of the stars who will be on show for Melbourne at Headingley and what we can expect from them?
Gus: The pack is inherited basically of fantastic players who can do the job and set a really, really good platform for three players. We have got one of the best Rugby League players in the world in Billy Slater at full-back who is just going to light up Headingley at the weekend. You have got Cooper Cronk who just controls it all, with Cameron Smith who's the hooker. So there's three players there that all easily could be the best players in the world, voted, certainly better than some clown called (Kevin) Sinfield from Leeds who got player of the year!
Skysports.com - Rob's champing at the bit here. Leeds hero Kevin Sinfield 'a clown' Rob?
Rob: That's hard to take! I believe he was voted the best Rugby League player in the world... He has not missed a kick at goal in 36 attempts so he is a man on form. He's an excellent captain, an excellent leader of men and he will be right up for this match, as will the rest of the Leeds Rhinos.
Skysports.com - The Rhinos have had a mixed start to the season with two wins and one defeat, at Castleford. Do you pay much interest to Super League Down Under, Gus?
Gus: The Super League has had huge improvements. Lots of our players have come back from playing in the Super League and coaches coming back to the Australian game saying that the quality is nearly at NRL level. So it's getting better and better every year. I just believe, guys, that Leeds will be up for this match because they're representing England, they're representing Great Britain, just like the Storm is representing Australia - so it should be an absolute cracker. I feel we're a little under-done, the Storm, and also we have heard that the weather is going to be particularly cold. It's 35 degrees here in Sydney and 28 in Melbourne, so -10 is going to be a bit harsh!
Skysports.com - Don't rub it in!...The bookmakers have priced Melbourne up as the clear favourites ahead of the match. Rob, who are the key men for Leeds as they look to keep the trophy in West Yorkshire?
Rob: Much like Melbourne, they have a key unit through the middle, that's Danny McGuire at No.6, Rob Burrow, who has been used as a super sub more these days than a starter, and then Sinfield himself. They've got a very big pack even without the injured Ryan Bailey - who could start a fight in an empty room by the way - but he will be missed for his power and strength. But Jamie Peacock is back and he's an important man to have for them.
Gus: Is Peacock still playing?! He must be 100 by now!!
Skysports.com - Steady Gus, you're not making yourself many friends in Leeds here!
Gus: Haha. Look, I do a radio show here called 'The Grill Team' with Matty Johns, who played over in Wigan, and Mark Guy - who both won Premierships - and they reckon if Leeds played in the NRL week-in-week-out they would finish with the Wooden Spoon!
Rob: I think that's probably a little harsh. I would say that what we don't have here that you have in the NRL is the strength in depth in terms of squads and players coming through and also in terms of teams. I think that the top four or five teams here could compete. Not to win, but certainly compete on a weekly basis with your teams. But the bottom half is nowhere near as strong.
Skysports.com - These matches are well known for the physical confrontation that they bring. Who are the Melbourne hard men Gus?
Gus: They don't kick off, that's the thing about (Craig) Bellamy's teams, they are very disciplined, they do the job and they let Cameron Smith poke them around the ground and they let Cronk do his stuff. They are not a massive pack by any means, either. They are literally just a team of soldiers that do what they are told by Smith and Cronk - then they take it from there. There's so many players who haven't done amazing jobs at other clubs but have turned into superstars with this great regime that Craig Bellamy has. It will be physical, but you will find a very disciplined performance by Melbourne, there's no doubt about that because Bellamy won't have it any other way.
Skysports.com - Discipline, in Leeds, on a Friday night? They are not welcome!
Rob: What about Gareth Widdop Gus, he is an England international who, remarkably, we don't see a lot of over here. Just how big a player is he for the Storm?
Gus: Widdop is a tremendous player. I think every club would like to have him. He's one of those blokes you don't have to pay big money for, but you will get a big money performance from him every week. He kicks goals when Smith's not available. He can play on the wing, he can play full back, he's done a lot of his best stuff at stand-off, I really do believe that he's probably one of the great unsung heroes of the team. He's absolutely on top of his game week-in-week-out and we are always surprised he's not the stand-off for you guys every time we play you in Four Nations or one-off Test series.
Gus cont'd... Anyway, it's really good to have a proper game of rugby league back home because watching England in the Six Nations - if you don't fall asleep - I haven't seen a confrontation there with any physicality over the first month It would be nice to see it won't it boys?
Skysports.com - Here, here! So predictions from you both...
Gus: I think the Storm will win it. I think it will be cold so they will probably only score 20 points, and I think Leeds will get eight or 10. So I will call it 20-8.
Rob: I think the fact Leeds Rhinos have played three hard games, the fact it's freezing cold and Melbourne won't be allowed to wear tights when they play, means I think Leeds will sneak it by a try, so let's say 20-14.
Watch Leeds Rhinos take on Melbourne storm live on Sky Sports 1 HD from 7.30pm on Friday and log on to skysports.com for interactive text coverage