Hopes for 2014: Jamie Redknapp, Mike Atherton, Will Greenwood and more look ahead
Pundits Jamie Redknapp, Mike Atherton, Will Greenwood and others share their hopes for 2014.
Last Updated: 01/01/14 9:43am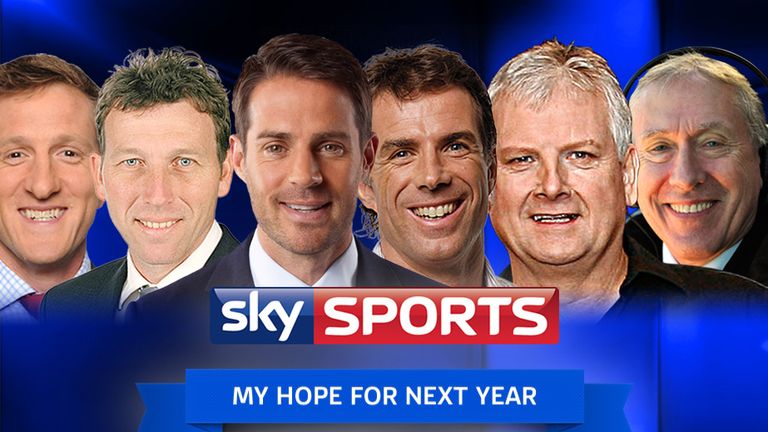 The Sky Sports pundits know most things about their sport, but even they can't get a crystal ball out and tell us what is going to happen in 2014.
But, all the famous faces know what they want to see over the coming months, so scroll down and see just what our experts are waiting on...
Jamie Redknapp - Football
More than ever I'm fascinated to see how the Premier League pans out in the second half of the campaign. So far this season the Premier League is the biggest mystery ever. Can Arsenal hold on to their advantage at the top of the table? They've played really well so far but do they have the mentality to see it all the way through? Will Manchester City, my favourites for the title, push on and sort out their dreadful away form? What about Liverpool - can they get back into the top four? And will Tottenham join them in the Champions League spots? What's going to happen to David Moyes and Manchester United? Is Moyes going to hang on to his job? Will United spend big in January? I don't think in the last 20 years we've ever seen United struggle like this; their fans must be starting to understand what it's like to be a normal football fan because they are having to suffer like everyone else! Meanwhile, at the other end of the table, Crystal Palace are looking doomed but can they make a great escape? It's all up in the air at the minute and I'm so excited to see how it unfolds.
Mike Atherton - Cricket
I can't wait for the visit of India. They were a bit of a rabble when they came to England last time and it looked like many of their senior players didn't fancy it so I'm looking forward to seeing a different type of India team. Sachin Tendulkar, Virender Sehwag and Rahul Dravid may not be here but hopefully their young team will put up a bigger fight.
Will Greenwood - Rugby Union
England pushed the invincible All Blacks all the way at Twickenham in the autumn Tests but playing them in their own backyard will be a completely different proposition. England head to the land of the long white cloud in the summer and I cannot wait to see how they get on in the three Test series - yes, that's right, a proper Test series to sink your teeth into! I am also looking forward to next year's autumn Tests when England host the Springboks, the All Blacks, Samoa and Australia
Phil Clarke - Rugby League
I am hoping that we see some new teams in the Play-Offs. If it really is a Super League then all 14 teams should have a chance of being there after the 27 Rounds. Let's hope some of them are. Salford perhaps have the best chance, Widnes behind them and you always know that Castleford have the character to do some damage. I also hope that the crowds for the Super League games are as healthy as some we saw in the World Cup. Did the tournament have any impact? Let's hope so. I look forward to seeing you all in the new season and hope that you and your families have a great time over Christmas.
Martin Tyler - Football
What am I looking forward to? I always just look forward to the next match - you can never look beyond that! My focus is always on my next game and at my age it's a thrill simply to be asked to commentate in 2014. Also, if I survive the year I will reach a special milestone. My first ever commentary was Southampton v Sheffield Wednesday back on December 28, 1974, so December 28, 2014 will be very special as it will be my 40th anniversary.