Sky Sports experts analyse all the action from Magic Weekend 2013
Super League's Magic Weekend hit The Etihad. Click here to see what our experts made of the action...
Last Updated: 28/05/13 11:41am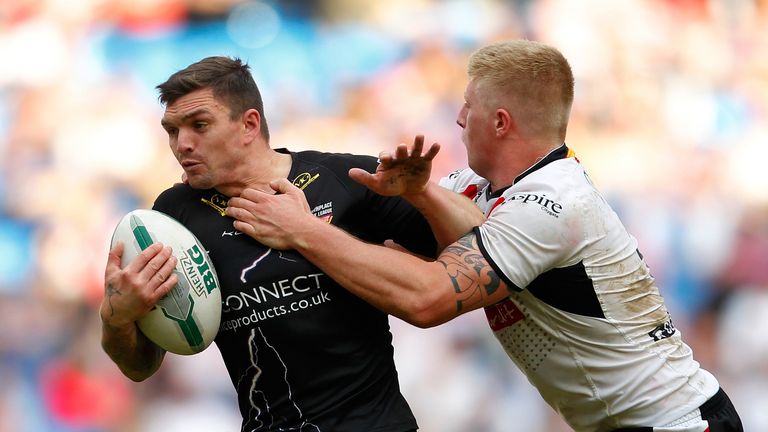 Each of the seven clashes were shown live on your TV screens, while Eddie Hemmings and our esteemed band of pundits chewed over the results and talking points from the seventh edition of this rugby league feast.
Saturday's encounters saw a Scott Dureau-inspired Catalans see off a spirited challenge from London Broncos, Castleford vanquish West Yorkshire rivals Wakefield, Hull FC edge compatriots Hull KR at the death after a controversial refereeing decision and Warrington best St Helens.
Salford, meanwhile, moved off the foot of the table by conquering Widnes in Sunday's opening fixture before Huddersfield fired a seven-try salvo to thump Bradford and league leaders Wigan overcame reigning champions Leeds.
Read below to see what Stevo, Phil Clarke and Jon Wells made of the action...
Bradford 6-42 Huddersfield
PHIL CLARKE SAYS: Huddersfield didn't have much ball in the second half but are a side that have the ability to score from halfway or even further out; they have fast players with good reactions and brilliant support play to back it up - and they know how to close out games, too. The Giants' management have put a great squad together and coach Paul Anderson (pictured) has great tools to work with and if he gets the chemistry right, the message simple and the belief strong, they could make the Grand Final.
STEVO SAYS: Huddersfield have speed and weight and are very strong in the three-quarters, while they have Danny Brough controlling things, penetrative players, a very good team spirit and are becoming polished. People might be expecting them to blow up but they are not going to and are going to give it a real push this year, and that's because Anderson has got into his players' brainboxes. He has told them they are going to do well and to only do things they can do, and they are now playing top-quality rugby.
Castleford 49-24 Wakefield
PHIL CLARKE SAYS: No team in Super League passes the ball wide as often as the Tigers and they were rewarded for that at the Etihad on a great playing surface, but their pass completion was great as well, something which hasn't been the case for the majority of the season. In their last three games [against Salford, Hull KR and Catalans], Castleford have scored 30 points or more and today nearly 50, and I don't think anybody will want to play against them in the remaining fixtures in Super League. They have got nothing to lose; their attacking brilliance is there for all to see; and on their day, with the sun shining and on a good pitch, they will score points. They are making fewer mistakes under Daryl Powell and if they tighten up at the back and don't rely on Rangi Chase (pictured) all the time, I think they have a great chance of getting in the play-offs.
Hull FC 22-16 Hull KR
STEVO SAYS: Chris Green has scored a clearly offside try to win Hull FC the game - you don't need to be Einstein to know that - and I am amazed that it was allowed to stand. We have made giant strides in our game to ensure that the officials get the replays, so I can't believe [RFL match official] Steve Ganson, who is very good at his job, has discarded all the technology presented to him. I am disappointed for Hull KR but also for the game.
PHIL CLARKE SAYS: There are times in life and in this sport of rugby league when you win despite not deserving to and that is what Hull have done today and if they make the Grand Final, which is certainly possible, they may look back on this game as a defining one. For Hull KR, though, and their coach Craig Sandercock (pictured), the Magic Weekend has turned into a tragic weekend and I don't think they will make the top eight come the end of the season.
Salford 28-18 Widnes
PHIL CLARKE SAYS: Salford deserved the victory as they were so solid when Widnes were attacking their try line; the Reds missed just eight tackles in the game and I haven't seen them defend that well all season. They were extremely brave and, like they did last year when they beat Huddersfield, they rose to the occasion of the Magic Weekend - but I don't think they will play that well again this campaign! Widnes will be disappointed to have lost but they could have won and are now regularly competing with sides in Super League, which they weren't doing in 2012, so they are making slow but steady progress.
St Helens 22-48 Warrington
JON WELLS SAYS: St Helens had chances to work their way back into the game but at times they misfired and made a series of poor passes, and the Wolves bared their teeth when it counted and knocked the stuffing out of Saints, with Trent Waterhouse a go to man and Simon Grix having a great match.
PHIL CLARKE SAYS: I was at Adrian Morley's (pictured) comeback for Swinton last Sunday in front of a few hundred people and I wouldn't have imagined that the week would end with him scoring a try at Magic Weekend in front of thousands, but he fully deserved it for all the pain he has been through with his bicep injury.
Catalans 46-18 London
PHIL CLARKE SAYS: Catalans are a side that can score long-range tries and showed that in this game by taking advantage of the possession that they had, and the fact they scored five tries and conceded just one shows how dominant they were. The Dragons' defence was good, too, and they demonstrated that they can still be a threat for the Grand Final. They should gain some momentum from having Scott Dureau (pictured) and his freshness back in the side, while full-back Morgan Escare looks fantastic and has brilliant try-scoring ability; a lot of Grand Final-winning sides have a young star that comes to the fore and Escare could be that man for Catalans.
Leeds 16-20 Wigan
STEVO SAYS: We've seen good displays from Warrington and Huddersfield over the Magic Weekend, but Wigan's clash with Leeds featured two teams that not only have skill and rattle up points but know how to dig deep - and that should be an example to other sides. It was very tough out there tonight (Sunday) so it was important to have someone who could score goal kicks and Wigan's Pat Richards (pictured) proved to be the difference.