Barrie McDermott hails Lewis Tierney in his Super League round-up
Barrie McDermott reflects on a Super League weekend which saw a rugby league legend's son shine...
Last Updated: 10/06/13 4:56pm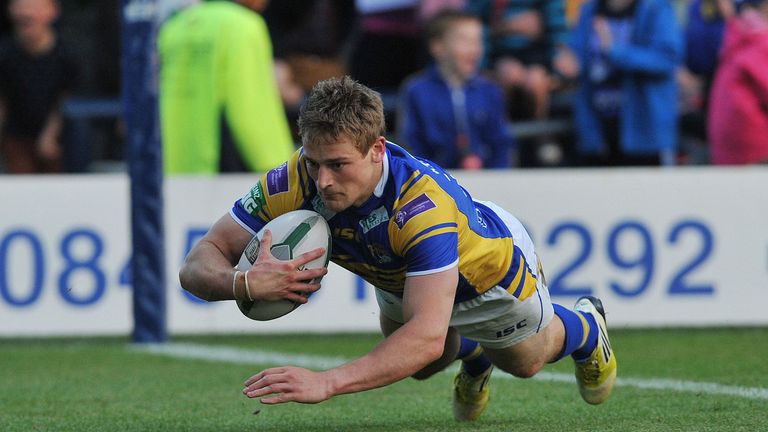 Widnes edged by Wigan Warriors
Lewis Tierney, son of the great Jason Robinson, made a try-scoring debut for Wigan. He doesn't quite play in the same position as his dad but there are similar characteristics - how he holds the ball and that familiar acceleration and Jason will be thrilled to have seen this from his boy.
Widnes gave it a good game in blistering conditions but unfortunately they didn't quite have enough.
They can count themselves unlucky and take some confidence. That's five games lost by less than a score. Head coach Denis Betts is, though, picking up momentum with those boys and it's a job well done. If we had promotion and relegation last year then Widnes would have gone but their progression is good.
Wolves crush Broncos
This was a heavy defeat but I believe the Broncos' game is stronger in London. They've had some difficult times flitting from place to place and they showed a bit of fighting spirit, but it's been all about power and pace.
They were in disarray and it was a long day. Head coach Tony Rea had to apologise to the fans. Craig Gower has gone back to the NRL and signed a short-term contract with Newcastle Knights. He's a big player and an important player and he had enough and threw the towel in.
St Helens beat Bradford
This was a much-needed win. James Roby is one of the best hookers in the world and made it onto the bench on Monday against Huddersfield before making the starting line-up in this game. Playing along with Jonny Lomax has helped the consistency that Saints wanted to have.
This was a good win in front of a home crowd who I wouldn't say were getting restless or impatient.
But new coach Nathan Brown came from Huddersfield and has had to show the youngsters a good bit of rugby league before their time. Skipper Jon Wilkin does the tough stuff. Saints are all flair and speed but unless they've got the experience to match that then it gets difficult.
Catalan brush Hull aside
Catalan Dragons scrum-half Scott Dureau returned during Magic Weekend after an awful injury with a tumour behind his eye. He then came back into the side and got injured again. That's tough but what you get with any Catalan side is strike.
This was important for them and they are a different side at home with a very vociferous crowd who get right behind the team. Hull's Tom Lineham caused a big stir and was close to making the England side against the Exiles but the 30-4 scoreline surprised me.
Hull have been going well and one of the success sides of the season. They not only beat Leeds recently - they beat them up - but Peter Gentle's side were given a good lesson here by Catalan and taught how to play the game.
Leeds defeat Castleford
The Rhinos blooded Thomas Minns who came into the side and scored the first try of the game. The night belonged to Jimmy Keinhorst though. The young centre on the right scored a hat-trick and he's having a good time. It was a good night for the Rhinos, good attendance and a great atmosphere.
Hull KR edge Giants
This was another result I didn't expect. Hull are a powerful side and after Travis Burns joined under a suspension cloud he's really starting to show his game.
They owed this result to their big men in the middle. It allowed them to play fast but Huddersfield will be disappointed.
They took Saints to task on Monday and they would have felt they had the wind in their sails. But not to carry on - their coach will be not be happy.
Race for top eight
We're into the final third of the season and I really didn't think Wigan would be that far ahead. Saints are back into the top eight and I think they they may have timed their run to perfection.
They've had a lot of players missing and to get them back fit and health and highly motivated, who's to say they won't go all the way and this after everybody had written them off.
With Wigan in a very strong position and with their momentum I think they'll be the ones to take that leaders shield.