Whatever happened to... Paul Cooke?
Hull take on Wigan in Saturday's Tetley's Challenge Cup final. The last time the Airlie Birds lifted the trophy was in 2005, when Paul Cooke was their hero. Here he talks to Sky Sports...
Last Updated: 27/08/13 9:42am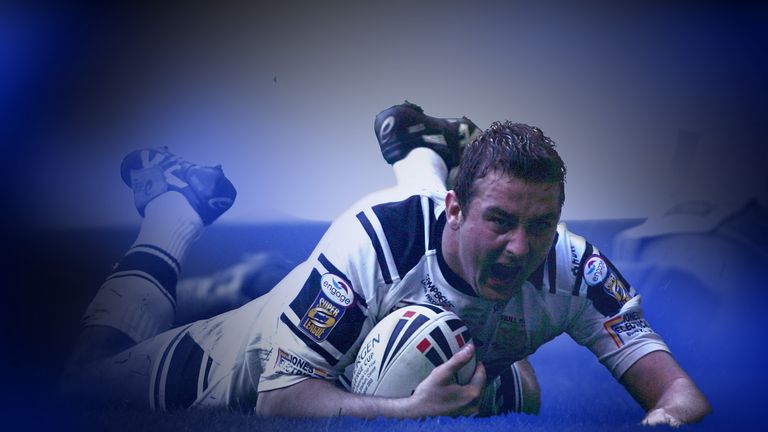 Yet eight years ago, the stand-off managed to slip through the grasp of the Leeds defenders and ensure the Black and Whites would lift the Challenge Cup (then sponsored by Powergen) for the first time since 1982.
Their thrilling 25-24 victory at the Millennium Stadium was the climax to a superb cup run. Now, as the 2013 squad try to pull off the same feat by upsetting Wigan at Wembley on Saturday, Sky Sports begins its 'Whatever happened to?' series by talking to the match-winner from their last final appearance.
Having come out of retirement to play for Doncaster last year, the stand-off talks us through that momentous occasion in 2005, his controversial switch to Rovers and his decision to become a head coach next year.
Sky Sports: First things first Paul - how did a boy from the east side of Hull end up starting out with the Black and Whites?
Paul Cooke: Hull and Hull KR offered me part-time contracts with the academy, but all Rovers could offer at the time to supplement that was a job - in the caravan site that is still now adjacent to the ground - and I was going on to further education. The reason I opted for Hull was that their offer was more attractive at the time. I signed on and the rest went from there. Hull FC were on the brink of Super League at that time and not long after that they gained top-flight status.
SS: To reach the final back in 2005 you had to see off both Bradford and St Helens, who you overwhelmed 34-8 in the semi-finals. What do you remember of your route to Cardiff?
PC: Probably the single best performance I've been involved with as a group of players was that semi-final win over St Helens. We almost dominated from start to finish and the score reflected that. We were overwhelming underdogs but booked our place in the final against the odds. In the other semi-final Leeds played Toulouse; everyone wanted to face the French team because they were part-timers and the Rhinos were lucky enough to get that draw. We had to play the favourites and overcame a very, very good Saints team to make the final.
SS: What do you remember in the run-up to the actual final? Did cup fever grip Hull, or at least one half of it?
PC: The build-up was exciting - it was the only game on the weekend and everything stops for the final. The media spotlight is on you and everyone wants to know what's going on in camp. I probably haven't realised until now that it was such a special occasion to be involved in. It was huge (for the city). I remember plenty of people came to wave us off from the training ground and wished us luck. I think everyone in the city understood the size of the occasion and wanted local players to do well, even the most ardent of red and white supporters that I knew wanted us to win that game.
SS: The match itself was a see-saw affair to say the least. The two teams traded tries throughout and then Leeds turned around a 19-12 deficit to lead 24-19, wingers Mark Calderwood and Marcus Bai both crossing. Did you fear the dream was over when you trailed late in the second half?
PC: I always believed that we'd get one more chance, being only five points down. I thought we'd get another opportunity to win the game - I just didn't think it would fall to me! Everybody was confident that we could get a result. We went into the game as underdogs but there was no question in my mind that we would win. There was a special play before I scored from our loose forward, Shayne McMenemy. I was rushed on the last play but he found a kick. It was a small thing that seemed insignificant, but it meant we came up with another set of six and the rest is history.
SS: What do you remember of your match-winning try? You managed to squeeze your way through the defensive line on the left-hand side before going on to ground the ball next to the posts.
PC: I called the 'over' call but Richard Swain didn't here me. Thankfully, Richard Horne did, and he switched it back across. Once I received the ball I knew I was going to score. I remember in the previous set that I'd seen (Leeds forward) Danny Ward tiring. I think it was Garreth Carvell who left him in his wake a little bit just before and that Dan was struggling to get back onside. I just thought that if I get in and around the try-line with him in front of me then I'd have a dip. I remember the play well and remember what I was thinking leading up to it, which is a surprise to me because I don't remember too much else about the day. I suppose when something special like that happens you're going to remember it.
I didn't need to stick it under the posts because I think 'Broughy' (Danny Brough) would have kicked the conversion anyway, but I knew it would be a pressure kick and the closer I got the better.
SS: Leeds were left with little time to reply, and Hull held on to win the cup for the first time since '82. What were your feelings when it was all over?
PC: When the final hooter went there was actually a penalty given, yet I think I'd already gone off the field! I was done, thinking the game was over. We still had a play to go but I think I'm off the field! I wanted to find my mum and dad, because it was a joyous day for them as well. The day before during the stadium tour I found out exactly where my mum and dad would be sitting. They put a hell of a lot of work into me as a boy growing up and it was a reward for them, as much as me.
SS: You were on the wrong end of the result the following year when beaten by Saints in the Grand Final at Old Trafford - what was it like to have the boot on the other foot?
PC: Horrible. I don't know where my losers medal is to be honest. Finals aren't the place to lose - I'd sooner lose in round one or not even make the play-offs altogether. As much as everyone says Grand Finals are great occasions, they are not a great occasion in which to lose. I wanted the ground to swallow me up at the end and sulked for about a month. It was the two best teams in the country battling it out and it was a bitterly disappointing outcome. Now, when you're a little bit older, you look back and realise that not many players get to play in such games.
SS: In 2007 you made the switch across the city to join Rovers. To say it was a major move is something of an understatement, particularly because of the situation regarding your departure from Hull due to a contract issue. Do you have any regrets now, looking back on it?
PC: It's not something I regret doing, but I wish in hindsight things could've been sorted on the black and white side of it before it got to the point where I had a decision to make. Obviously that wasn't to be and I felt like I made the decision for the right reasons - I still do. I don't regret leaving Hull FC, I just regret the circumstances. There was no real time to tell everyone what was going on because of the impending legal cases.
It was not easy - the car got a bit of damage at the time and I got some abuse when out shopping in the local supermarket, or out with my kids. It was a tough time for myself and my family and I didn't particularly handle it very well. I went into a bit of a meltdown both professionally and personally. You live and learn by the mistakes you make, but it was a very tough time.
SS: Your final Super League stop was Wakefield. What made you decide to call it quits after that 2010 season with the Wildcats?
PC: I went back with John (Kear, his coach when Hull won the cup) in 2010 and it was very difficult travelling. It was an unwelcome time when I was asked to leave Hull KR, I didn't want to particularly go to north Wales for family reasons so I turned down a move to Crusaders. I ended up at Wakefield for six months and they were on a crest of a wave when I joined. But then not long after Danny Brough left and you could tell in the background that things were not right. In the end they almost became extinct before Andrew Glover took over. I didn't renew my contract at the end of that season and opted to quit the game because my mum was ill. It was a tough old 2010.
SS: However, last year you were tempted to get the boots back on with Doncaster. What did you do before making your comeback, and what tempted you to return, particularly at a club in Championship One at the time?
PC: I went to work on the tools and was quite happy with what I was doing in life. I had a new baby in 2011, she was born in October. Then Doncaster contacted me about taking on a role within the community and playing as well. I think they knew that just being a player was a non-event for me, something I wouldn't consider. I felt like just playing wasn't for me. The club were great - they offered me a role in the community and it was probably the right level to go back into after 18 months of no physical activity. I found myself in Championship One - which is a hell of a lot less pressure than Super League - and we were fortunate enough to be promoted. Now I find myself with the head coaching role for next season, so the move couldn't have worked out any better. I have to thank a lot of people at the club, as well as the supporters, for being brave enough to take me on and bring me back to the game. It was a big risk.
The club said to me what figure do we need to get to. I just said 'these are my bills and this is what I'll spend in petrol'. They had to beg, steal and borrow to get me on board, and I don't think looking back now it was a particularly bad decision taken by the club with the way it has panned out. It took a huge amount of work and effort from a lot of people, though, which I'm sincerely grateful for. It has probably been one of the best moves I've made.
SS: And it seems your job at Doncaster is about to get a lot bigger. Tell us about your impending move into coaching...
PC:When I quit in 2010 I was quite happy doing what I was doing and with my life away from rugby. It was something (coaching) I had as an ambition but I never ever thought it would happen so quickly in joining Doncaster. I went out in the local area and spread the word of the club in my initial role at Doncaster. That has finished now - with the RFL cuts the community department went in the time I was still being paid by Doncaster. I quickly went onto the coaching staff and then when Tony (Miller) announced he was quitting I was asked if I would consider taking on the coaching job as well as playing. I didn't take much persuading because the club has been so good to me. As for the work in the community, I still get out there as often as possible in my own time to do as much as I can. I still enjoy trying to educate people to try and make better decisions than I made off the field.
It took me a hell of a long time to grow up. I'm at the stage in my life now where not a hell of a lot bothers me. If my missus is good, my kids are good and my family is good, then life doesn't really get much better for me. I'm still a competitor, but it's not the be all and end all for me.
SS: And finally...what chances of a Hull repeat of that 2005 triumph when they take on Wigan in this year's Challenge Cup final at Wembley?
PC: It feels a bit like history is being repeated to be honest. I does have that same siege mentality where people aren't giving them a chance. If the players at Hull believe they can win it then it doesn't matter what anyone else thinks. Favourites lose, as Wigan showed against Sheffield Eagles in 1998. Upsets do happen and players find that little bit extra deep, deep down within that they never thought possible.