Rugby League Experts & Columnists
Barrie v Terry: Pair go head-to-head with their Super League predictions
Our experts think London's losing streak will go on at Leeds
Last Updated: 20/03/14 2:27pm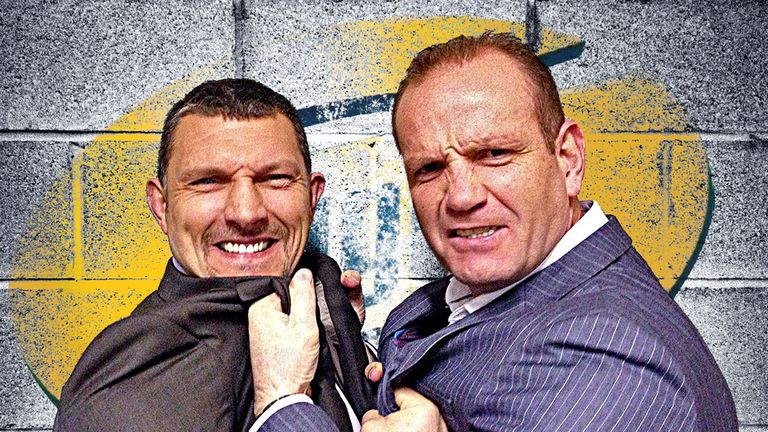 Last season Terry pipped Barrie to the post and proved to be the most successful tipster - but Barrie is determined to make amends in 2014!
Each week they will give their predictions for the Super League games - the boys will score one point for a win, while if they both pick a winner, then the pundit with the closest score gets an extra point.
Current standings
| | | |
| --- | --- | --- |
| Round | Barrie | Terry |
| Round 1 | 7 | 8 |
| Round 2 | 5 | 6 |
| Round 3 | 7 | 10 |
| Round 4 | 6 | 9 |
| Round 5 | 9 | 10 |
| Total | 34 | 43 |
Catalan v Huddersfield: 5.25pm, Sat, Sky Sports 2
BARRIE SAYS: Huddersfield were scintillating last week when they virtually scored from the kick-off against Bradford but with Michael Lawrence missing there could be a couple of changes to that team. Catalan have players returning in the nick of time just as the panic buttons are worn completely out. Last week the pride in performance was back in the Dragons' players which is a relief. They were better against Saints but nowhere near their best and I think they'll improve this week but will fail to get the points.
Prediction: Giants to win by 12.
TERRY SAYS: There was another loss for Catalan last week and a huge 66 points to 18 victory for Huddersfield v Bradford. I fear the pressures are mounting at Catalan for everyone involved through the club. I'm hearing that some of the top players aren't happy and that would filter through to the less experienced men in the side. They just need to perform; if it's attitude, turn it around, if it's application in games, work harder. On paper they are a good side but you don't get two points on paper. Huddersfield will enjoy the trip to the south of France and will want to build on last week. If they can play with the same commitment and desire from the start it will put doubt in the minds of a team that is not at the races. Knowing Paul Anderson like I do he will be telling his side to play a high tempo game from the start.
Prediction: Huddersfield to win by 18.
Leeds v London: 7.30pm, Fri, Sky Sports 1
BARRIE SAYS: Unbeaten Leeds entertain win-less London Broncos in what looks a predictable Super League fixture at Headingley. But the Broncos always lift their performance for the annual trip to Leeds, winning on two of their previous five Super League visits. It is the tallest of orders to get anything form this trip, though, and Leeds look irresistible at the minute. Joel Moon and Brett Delaney are big losses for the Rhinos but young prospects Elliot Minchella and Rob Mulhern will not let anybody down.
Prediction: Leeds to win by 24 points and celebrate Ryan Hall's new deal with a terrific victory.
TERRY SAYS: Here we see the best defensive team against the worst. Can the Broncos win at Headingley? Well, any thing is possible but I think it's highly unlikely. The Rhinos form as a team is tremendous this season. The outside backs are also playing well individually and in their collective groups. Another huge plus for the Rhinos is the signature of Ryan Hall for the next five years. It's good news for Super League and the English fans to have him secured within rugby league in this country. If I was Tony Rea I would be telling the players to enjoy the challenge, atmosphere and the build up during the week to this game. Go north with a clear head and enjoy the game, that way if you take the pressure away they may find it easier and may enjoy the experience (easy for me to say).
Prediction: The class of Leeds will tell. Leeds by 34.
Warrington v Wigan: 7.30pm, Thu, Sky Sports 1
BARRIE SAYS: There are some intriguing fixtures this weekend, not least Salford's clash with Castleford, but the undoubted highlight of Round 6 sees Warrington entertain Wigan in a Grand Final repeat at the Halliwell Jones Stadium. Adding further spice to this occasion is the fact that Wolves coach Tony Smith admitted to helping Sydney Roosters in their preparation for the World Club Challenge with Wigan in January. His justification was the fact that his nephew (strength and conditioning coach Keegan Smith) is part of the Roosters staff. But news that Warrington were actively assisting the Roosters did not sit too well with Shaun Wane and he said so at the time. He has said it's another important game that Wigan need to win. Wigan were not at their best last week but still had the class to "fix up" on the run to get the two competition points off Hull KR.
Prediction: I'm going for Warrington in a thrilling north west derby.
TERRY SAYS: Shaun Wane came out earlier in the week saying he hadn't reminded his players of Warrington's involvement in the build up to the WCC, helping the Sydney Roosters in training sessions. Tony Smith's men educated the Roosters boys as to what lines the Wigan side would run. Myler, O'Brien, Ratchford, Michael Monaghan and Russell all played at the same time last week. Russell came on and went to fullback, Ratchford to centre in place of Chris Bridge. They're an exciting side to watch and get up for the big games. Wigan will be ready for this huge battle, though. I feel it's a bit of payback as they will feel aggrieved that a fellow English club helped a team from abroad. A focus for Wigan in training this week would be the edge defence, they got caught out a few times last week v Hull KR and will not want a repeat of that. This game has come a week early for Sean O'Loughlin and they also have Micky McIlorum serving his second game of a three-match ban. Those players will be missed in this intense game.
Prediction: This is the toughest game to call this year, the team that wins will be the one that plays with discipline. Wigan by six.
Hull v Widnes
BARRIE SAYS: Hull were unlucky against Castleford and with a few fix-ups on their ball control they could have won last week. Widnes will miss Joe Mellor and replace him with young Danny Craven but they were well beaten last week and picked up some bumps and bruises physically and emotionally.
Prediction: Hull FC to win by 16
TERRY SAYS: This game is another close call. Hull at home are always difficult to play against. The pitch and stadium are tremendous and the atmosphere excites players from both sides. Hull were beaten by Castleford last week on a small pitch, but are a different side at home. I'm impressed with Jordan Rankin and if Hull are getting on top in the middle he and Houghton will cause problems. Lee Radford's men have lost three away games this season but have won both home games scoring a total of 80 points, obviously a different proposition at home. Widnes this year have a better defensive record than Hull (although they've played a game less). I'm sure the Vikings didn't get carried away when they won three from three, it's now back to business for them without Joe Mellor, one of their hottest properties. He will be out for between 2-3 months with a dislocated shoulder. That will now give a chance to Danny Craven, a half that has immense speed and an enormous kicking game. If Widnes play like they can they will trouble most sides. It will be interesting to see if Joseph and Cahill return for the Vikings taps that will give them a huge boost.
Prediction: I'm going for a shock Widnes win by 12.
Hull KR v Bradford
BARRIE SAYS: KR were unlucky that Wigan had time to reassess and regroup last week. They had them on the rack for 40 minutes and that is why I see the big forward pack of the Robins taking the Bulls to the cleaners.
Prediction: A home victory to KR as they'll win by 22.
TERRY SAYS: The Robins troubled Wigan last week, especially out wide. They impressed me with the attacking shape they played with. A couple of lapses led to them conceding tries that I'm sure irritated Craig Sandercock, but all in all it was a good performance. Bradford will get to know who the successful bidder is in the next 24 hours which should help the players focus and also let Francis Cummings sign a couple of players who will help them climb the table. Will they or can they do it in this game? Well, anything is possible I suppose but I'm going with the Robins. You can take positives away from most defeats. Hull KR looked sharp in defeat and to lose by just 14 points at the DW is no real shame, for Bradford they lost heavily at home to Huddersfield by 66-18 in front of a good crowd who are doing everything to inspire the side.
Prediction: Hull KR by 22.
Salford v Castleford
BARRIE SAYS: The Tigers were victorious last week but only just, they are a team that has character and quality. The Devils will click at some point and I think that if Rangi Chase returns the signs are positive enough for me to back them in this exciting game.
Prediction: Reds to win by 8.
TERRY SAYS: Whatever Daryl Powell is doing in training - don't change it! Who said this team was a one-man side last year (Brian Carney), they are all playing extremely well. Five from five and last week was the first time they failed to score 30 points or over in 11 games, incredible. Classy Cas are a credit to everyone involved at the club, along with the vocal crowd. Adrian Morley came out with a great line last week when he said that players are starting to feel the pressure. That is because a lot of money was spent assembling a side with some of the most talented players in the competition. All the other players who play them will raise their performances hoping to get some of Mr Koukash's cash. Salford had plenty of guts last week and once again showed glimpses of what they can do.
Prediction: This is a tough game for Salford. Look out for the Fages v Sneyd battle. They are two exciting young halves who are playing well. But it's hard to back against Cas. Castleford by 10.
Wakefield v St Helens
BARRIE SAYS: Wakefield were brilliant last week and Richie Mathers tipping up with four tries was that type of attacking threat that players like him and Sammut have to offer. Saints are without Walsh, McCarthy-Scarsbrook and possibly Walmsley so could that make them vulnerable? The form is with Saints and that's what will get them the biscuits at Belle Vue.
Prediction: Saints to win by 12.
TERRY SAYS: This is an intriguing battle. Wakefield are always tough at home and are a side playing better than most expected and another side to post a big score v London in the capital. This will be a test for the Wildcats. I do believe that they will get up for this game both mentally and physically. Players want to play well against the top side in Super League and Saints are most definitely that. Every player who is on the field playing for Richard Agar will have to work hard to break Saints' line and if you want to find a hardworking side then look no further than the Wildcats. Probably the biggest news going into this game is the loss of Luke Walsh and Jordan Turner, along with doubts over second rower Sia Soliola and prop Alex Walmsley. Saints are lucky to have Jon Wilkin playing for them as he slotted into the halves last week. Kyle Amor will want to prove a point and add to his growing reputation. If he carries on improving I'm sure he will play internationally within 18 months and if he does I think he should trim his beard, cut his hair and have a good wash! Although the look and style is working for him...
Prediction: An exciting, tough game in prospect but I'm leaning to the front runners because winning and performances are a habit. St Helens by 14.