Super League XIX, Week 6: Tony Rea delivers his review of the weekend
London coach says St Helens and Leeds are leading the way
Last Updated: 25/03/14 9:24am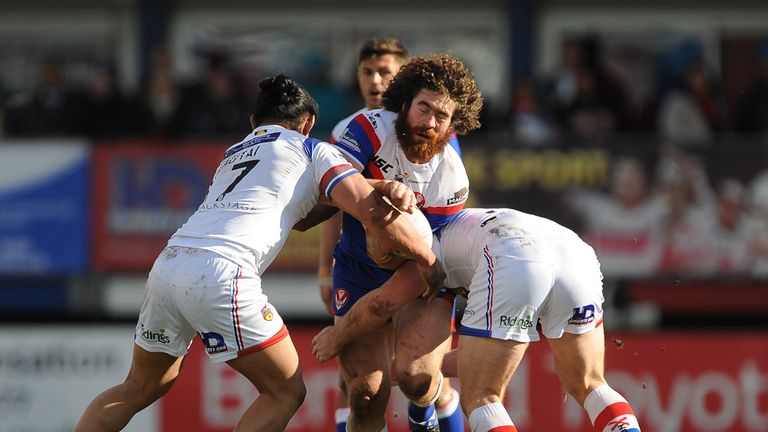 TONY SAYS: Saints are in very good form. They had to fight their way back to win the game and they did not have it all their own way against Wakefield.
They had to work hard against a Wakefield side that are in good form, but Saints kept their composure and nailed it at the back end of that game. One and two are the standouts. They are unbeaten in six games. They are playing physically well. They look very confident.
Salford 23-16 Castleford
TONY SAYS: I think it was a good lift to have Rangi [Chase] there. I thought it was going to be an even contest and most people would expect that as Salford are a quality outfit at home. Chase creates openings and such good lines for those around him. He had a real influence on the game.
They fought themselves through a bit of a bit of a tight patch earlier - a few people expected that might happen after a big high early - and I think that they should be talking about play-offs and experiencing that. It would be a good result for them.
Leeds Rhinos 54-6 London Broncos
TONY SAYS: Leeds are a very good side. They have been winning titles and they are big and physical. They made everything look very easy against us. I was very impressed with them. Ryan Hall scored a hat-trick. One thing that I did like from my side was our fight. If we keep staying in there and make everyone work for every point then it will turn for us.
I was far more optimistic after the game. The beauty of sport is that you have next week. We know that we can get back together and we have things to work on. There are still some technical things in our game that we need to improve. If we can improve those areas I know we can grab a bit more momentum.
Hull FC 0-7 Widnes
TONY SAYS: Widnes have been impressive this season. They have gone about their business well. It was an outstanding effort away from home. The lines were broken only once in the game so that must have been one heck of a defensive game from both of those teams.
Hull FC coach Lee Radford questioned his players after the game but Hull must be defending very well for 80 minutes. Obviously he has high expectations and he is raising the expectations bars inside the organisation but I would think after they review there will be some positives.
Hull KR 16-0 Bradford
TONY SAYS: Was this a must win game for Craig Sandercock? I don't think so. I think he will be given a good period with the squad he has brought in. He is a quality coach and goes about his business particularly well. Kris Keating has been under pressure and he responded with a big game.
Hull KR have some of their big guns back and their playmakers have gone in and given them a clinical win to take some pressure of Craig. But like Lee Radford, he will have some high expectations this season with the squad they have put together.
Catalans Dragons 30-14 Huddersfield
TONY SAYS: Catalan Dragons have had a particularly difficult start. They have been away from home for a lot of the periods and I think we all know that they are smoking hot when they get going.
Once the grounds firm up they start playing particularly well and when you go down there and they are in good form they are a good team. They sent a message to everyone last night to say that they are back in.