Boots 'n' All: Barrie McDermott and Terry O'Connor's half-term Super League report
Who will be top of the class and which sides must stay for detention...
Last Updated: 02/04/14 7:56pm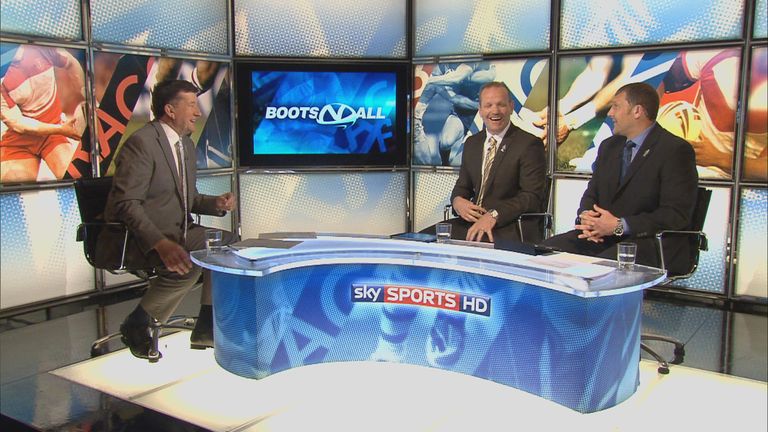 We're a quarter of the way through the Super League season with seven games passed, so Boots 'n' All asked our regular teacher's pets, Barrie McDermott and Terry O'Connor to hand out some grades.
They may not have got the top grades at school but they sure know a thing or two about league. Here's who have caught their eye as we reach the Challenge Cup half-term weekend.
MR McDERMOTT - Head of Food Technology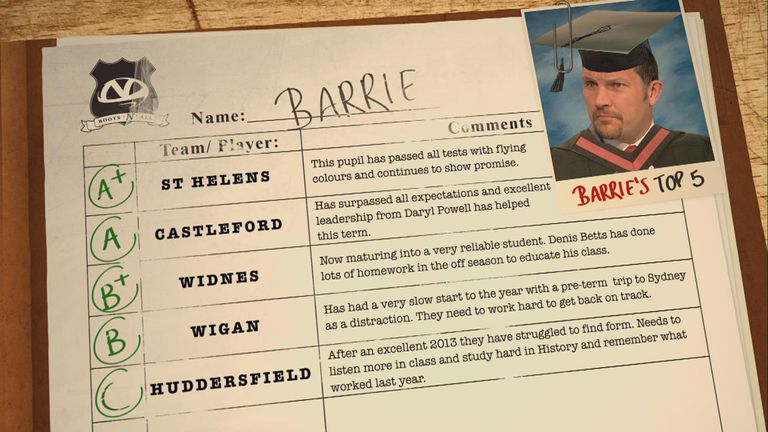 Gold stars for....
A+ - St Helens
A - Castleford
B+ - Widnes
"I think that St Helens – with seven wins from seven – have been just phenomenal and their coach, Nathan Brown, had to be confident in the young players at the back end of last year.
"You can't not be impressed by Castleford and their half backs and what they're doing.
"Castleford and St Helens get my highest grades. Whereas Widnes, under Denis Betts, have had a great start to the season and i'll reward them with B+.
Must improve...
B - Wigan
C -  Huddersfield
"The two blips for me are Huddersfield, who won the League Leaders' Shield last year as consistency is normally their friend. And Wigan. We might throw an excuse or reason with their World Club Challenge Cup, but I think it's more likely that whenever Sean O'Loughlin is not playing they miss him."
Go to the Headmaster's office - Salford
"If it's a school report for Salford that we're talking about and Marwan Koukash is the headmaster, then he'll be having a few of them in the office to have a stern talking to because he's not happy and he's said that all the way through. They set themselves the target of top four and they're someway off that."
MR O'CONNOR - Head of 'Physical' Education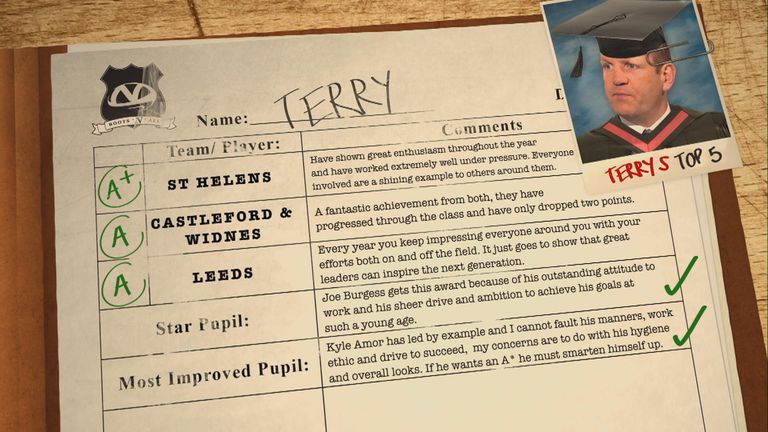 Top of the class...
A+ - St Helens
A - Castleford and Widnes
A - Leeds
"I've been very impressed with St Helens and the enthusiasm they've shown not only in attack but in defence.
"Castleford and Widnes have both only lost one game. They need to not pick up any injuries and make sure they keep playing with the same attitude.
"It's interesting to look at both their coaches. When they finished playing they both went in to jobs which they lost – Daryl Powell at Leeds, Dennis Betts at Wigan – and they went away from rugby league to learn about themselves and how they could progress as a coach.
"They've done that, come back, plied their trade in the Champsionhip and stepped up – it's about how you look after the lads, how you make sure you prepare the lads and that's the difference.
"Where they've come from, they know what they've got to set in stone, they know that it's not about the results coming tomorrow because we spend money; you've got make sure the players turn up and want to play for that club."
Teacher's pets...
"My star pupil has got to be Joe Burgess at Wigan. He has been absolutely exceptional stepping in to Pat Richards' shoes.
"While the most improved has got to go to Kyle Amor and the job that he's doing at St Helens, he's very strong. I think the only thing he could do is get a wash and get rid of that beard. You can't fault him for his manner or his ethics, it's just his looks!
"I think these two players are on top form."