Rugby League Experts & Columnists
Barrie v Terry: Pair go head-to-head with their Super League predictions
Last Updated: 17/04/14 10:18am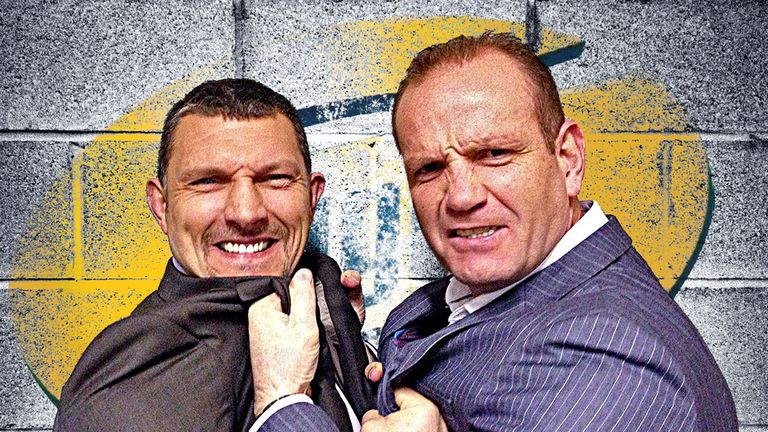 Barrie and Terry are back to tear into each other once more as they go head-to-head with their Super League predictions.
Last season Terry pipped Barrie to the post and proved to be the most successful tipster - but Barrie is determined to make amends in 2014! 
Each week they will give their predictions for the Super League games - the boys will score one point for a win, while if they both pick a winner, then the pundit with the closest score gets an extra point.
Current standings
BARRY - 52
TERRY - 57
Hull KR v Hull:  7.30pm, Thu, Sky Sports 1
Terry says: Two teams coming off back wins at the weekend. A thriller and a new experience for lads who have played mostly in Australia. I always look forward to this game. You only have to look back a few years ago to when now coach Lee Radford came out of retirement to play for Hull in this fixture - he even scored a try! KR outplayed Warrington last week and looked on the money. Hodgson, Weyman and Costigan played extremely well and that same form will be needed against the Black & Whites. A Herculean performance from both will be needed in this game.
Prediction: It's another tough game to call because of the different emotions that will be on display in all fixtures. I think this will go Hull KR's way by 12 points.
Barrie says: Both teams are in a good place at the minute with KR coming off the back of a big win at Warrington and FC beating last year league leaders Huddersfield in a spicy game. This derby is the only true one according to the people of Kingston upon Hull and always lives up to expectations. KR are at home and have that advantage, plus they have returning players from injury and suspension. They have half backs that are settled and are combining well at the minute plus a pack that gives good go forward and Ben Cockayne is having more influence on the games from fullback.
Prediction: My prediction is a home win, plenty of aggression and the odd bout of handbags in the middle KR by eight points
Bradford v Leeds
Terry says: Francis Cummings has lost the services of Anthony Mullaley who has returned to Huddersfield. I'm getting bored of listening to all the different problems at the Bulls. I love the club and I want to be talking about things like "Bulls re-sign Sam Burgess and his three brothers", "Benji is a Bull", or "Owen Farrell turns his back on his dad to sign for Bradford".
Fingers crossed a huge crowd will turn up and generate funds to bring the good times back.
Prediction: The game itself will be won by Leeds, a class act across the board and another side that are hard to back against. Leeds by 26.
Barrie says: These games are always special and have a habit of ignoring the league table and form of the sides. Leeds hosted Wakey in their last fixture and got over that hurdle ready for the Easter marathon of two games in 3/4 days. Bradford lost out to Salford in a high scoring game, the positive for the Bulls was the return of Matt Diskin and Adam Sidlows. Odsal has a unique atmosphere and the players will need to draw on that to give their rivals a good test!
Prediction: Intense game going in the way of the blue and ambers by 12 points 
St Helens v Wigan: Noon, Fri, Sky Sports 1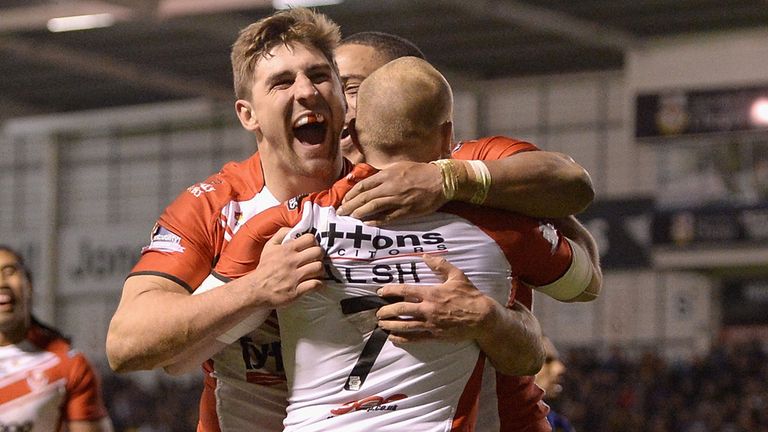 Terry says: Every derby game is special but this is my favourite. I played in 44 of these games and form, injuries, who's in and who's out all counts for nothing. A packed crowd at Langtree and the fans at each other in a friendly banter adds to the day and occasion. Lots of lads will give season best performances; they've throttled each other during the week in anticipation for this clash.
Saints did it again last week v Cas in the final minute -  why does it seem any try that Tommy Makinson scores is a thriller? It was world class play from a youngster who is still making his way. When Saints pick up injuries they just role another body out, dress them in a Saints top and nothing seems to change performance wise.
Wigan will play with passion - the coach, captain, kit man and most of the players grew up watching these derbies so it's ingrained in them without having to be prompted.
Prediction: Tremendous game and the winner will be the one who scores the most points. St Helens by eight points.
Barrie says: Saints were at their irresistible best last week against the unlucky Castleford Tigers but it's the sign of a very good side that can play below par and still get the points in such a quality game. Wigan won at a canter against London and will have looked at this game for the last few weeks as the one they have been looking forward to! Our passion for rugby league is born from these derby matches where the script could be a Hollywood blockbuster because of the drama and intrigue.
Prediction: These games are always 11 out of 10 in terms of quality, ferocity and excitement not much in it but Super Saints look like this game is theirs to lose Saints by 12
Warrington v Widnes: 14.30, Fri, Sky Sports 1
Terry says: The best result for Widnes came last year v Warrington with 12 men. Hep Cahill was given his marching orders after 39minutes for nearly decapitating Brett Hodgson in front of the sticks. Now Brett Hodgson finds himself as part of the Vikings coaching set up and I'm sure he will be helping Denis Betts and Mick Cassidy plot the downfall of his former employees.
Widnes defence wasn't good enough last week, they missed 40 tackles which isn't like them. Decision making with the ball was another problem and they gifted Catalan two tries through poor execution of simple plays which they normally prosper with.
Warrington will be determined after last year's defeat but most recently the defeat they suffered v Hull KR. Both of those losses will spare Tony Smiths side on. Only Chris Hill seemed to gain any ground last weekend and if you need anything in a derby it's direct hard work from your big 6.
Prediction: I am going for a Widnes bounce back and win by eight points.
Barrie says: The Vikings were way off last week in the south of France and Denis Betts was visibly disappointed with his sides effort. They would have had a tough week going through all that went wrong against Catalans.  Warrington came up short again and for the third time they have lost a home game. It still looks like the Wolves are feeling their way into the season  - two steps forward and one step back seems to be the formula.
Prediction: I am going for a couple of steps forward this week for Tony Smiths side - Warrington to win by ten points.
Salford v Huddersfield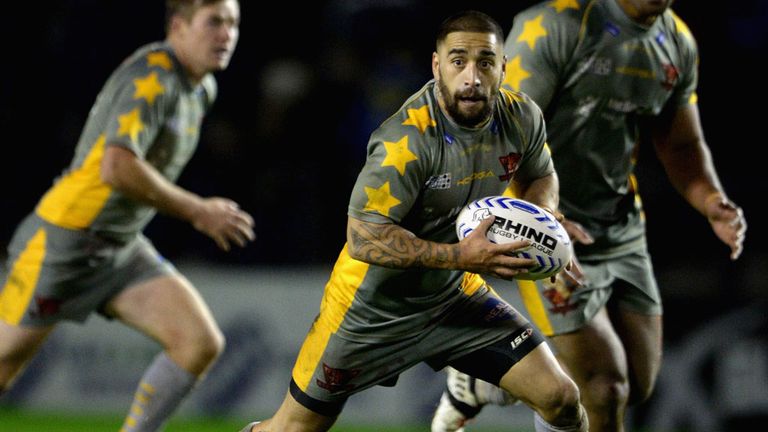 Terry says: New coach at the Devils and a win for the Salford owner. Iestyn will want to make his mark. Can he bring success to a side that was put together by a man who won Challenge Cup's, Grand Final's and World Club Challenges?  I know Iestyn will work tirelessly and if he can help Smith and Chase form a partnership, well that could be the springboard to success. At the beginning of the year Huddersfield looked to be one of the favourites after last year's success, yet they have only won two games and drawn two, losing the remaining four. Salford had bought all the stars from most opponents and wanted at least a top eight finish, well they are in eighth spot with four from eight. This weekend is a huge four days for all clubs but these two in particular.
Prediction: Not many get through the Easter period with 100% success rate. I'm going to go for a Salford win by ten points.
Barrie says: The performance of the Giants has everybody in shock including the players and with the sin binning of man of steel Danny Brough last week the pressure of expectation is taking its toll. Paul Anderson is a good coach that has seen it all before as a coach and a player so Giants fans mustn't lose faith. For Salford, well progress was made last week against Bradford and they looked better with the ball but still need to concede less.
Prediction: I'm going for the Giants to bounce back and get a win on the board by 14.
Wakefield v Castleford
Terry says: Poor old Cas last week, beaten at the end of a truly pulsating game.  Everyone felt for them, or at least the neutrals did. This time last year they were horrendous, then a new coach with new ideas comes along with a new play book and changed the Tigers fortunes. They are now an incredible side who have a genuine side with strike and power.
Lynch and Millington will mix it with most, Clark is proving again this season that he is a future international and young James Clare looks a class act.
Wakefield will be worried about Castleford's form. Have they enough to trouble them? In Sammut, Lauititi and McShane they have three players who can get you on a play. They will be hungry and embarrassed by recent form so you can expect a desire and commitment that we've maybe not witnessed over the last few weeks.
Prediction: I expect Castleford to win this game purely and simply because they are in excellent form. Castleford by 12
Barrie says: Wakey are coming off the back of a defeat and so are Cas but the Tigers will have learned a lot about themselves as individual and as a team. Daryl Powell was visably gutted after the game and his side deserved better but the second half belonged to Saints and their belief in each other. Cas will need to have the same trust and understand how to close a game down. 
Prediction: Back to wining ways this week for Cas by 16.
London Broncos v Catalan Dragons: 17.00, Mon, Sky Sports 2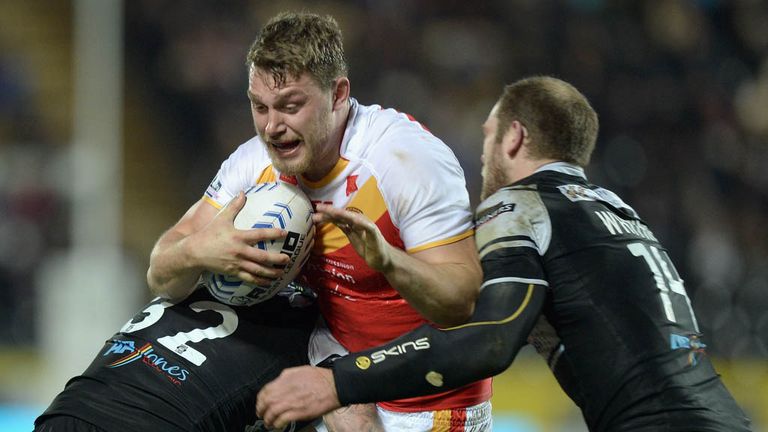 Terry says: This weekend tests all in Super League. Some coaches have the luxury of resting and rotating players, whilst others find it hard. As a player you know it's in the fixture list so just get on with it. London are looking for that first win of the year, will Tony Rea rest players on Friday against the lads from the south of France then go with his best side against Hull knowing they've come off the back of a huge game against Hull KR?
Catalan looked very good against Widnes. They only missed seven tackles in the game, played a disciplined game, giving away just four penalties and made over 1650 metres with the ball. They are a very tough side to play when they are on song and they're starting to hit the correct notes.
Prediction: I'm sure Catalan will play a strong side and look for a valuable 2 points. Catalan by 30.
Barrie says: The positives for London are that there are some young players getting valuable experience at super league level. Players like Iliess  Macani, Mason Caton-Brown, Thomas Minns, James Greenwood, Mike McMeeken, and Alex Foster are visibly getting more confident at this level and it will do their long term career no harm. Dragons are a formidable side at the moment and with Elliot Whitehead they have a big, fast attacking threat on their right edge. Add to that Pelissier, Escare and the fact that they beat the Broncos in the cup 40-24 means that all roads lead to the Catalan side getting the win in the capitol.
Prediction: Dragons by 24.