Marshall roar!
New Zealand captain Benji Marshall has sung the praises of "little brother" Rangi Chase.
Last Updated: 25/10/11 5:42pm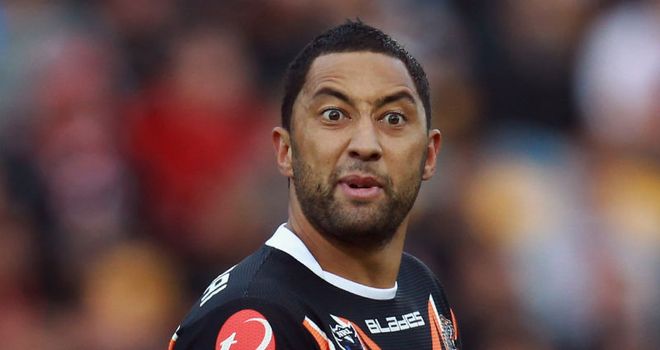 New Zealand captain Benji Marshall wishes Rangi Chase all the best with England, even if his good friend was "too scared" to tell him he was turning his back on his country.
The two half-backs - who studied together as the famous Keebra Park State High School in Queensland - could have been lining up together for the Kiwis in this year's Four Nations.
Instead, though, Chase has opted to represent hosts England, the newly-crowned Super League Man of Steel qualifying through residency after spending the last three years of his career at Castleford.
Marshall describes Chase as "like a little brother" and although he admits he would have had something to say about the switch had they spoken about it on the phone, he wishes him all the best for the future.
"I found out through somebody else," revealed the 26-year-old, who will lead New Zealand in the defence of their Four Nations crown.
"He'd be too scared to ring me and tell me that. Coming through school and living together, he was like a little brother to me and he'd always ask me for advice.
"I think with the decision he made he might have thought I would have something to say but, at the end of the day, we're best mates and, if that's what he wants to do, that's fine.
"It's obviously sad that I won't get the chance to play with him for New Zealand.
"At the end of the day, he's a grown man, he can make his own decisions and it just shows the depth that we have in the halves in New Zealand.
"He's obviously not going to be coming back to New Zealand or Australia for a long time.
"He's got a steady girlfriend over here who is English and he's going to spend a lot of time here so I really wish him all the best, although not against us."
Tough upbringing
Chase is a former Junior Kiwi and played for New Zealand Maori as recently as last year, when he actually faced his new international team-mates in a game in Auckland that ended 18 apiece.
The 25-year-old had a difficult upbringing; he was brought up by his grandparents, working in a sawmill at one stage, before fleeing his homeland at the age of 16.
"It was pretty tough, seeing things a lot of young kids shouldn't see, a lot of violence, a lot of alcohol, stuff like that," Chase recalls. "I'm proud of myself to get to where I am now, for what I've come through.
"I want to be an inspiration to kids who haven't had the best upbringing, that are struggling.
"I want to show them that your dreams do come true and that there are pathways and choices you have to make in life. If you go down the pathway that's not too good, you have to learn from it and take another one.
"If that's a good one, keep going down that path. I got an opportunity and took it with both hands."
Marshall knows all about Chase's background and cannot wait to congratulate him on turning his life around before they go toe-to-toe on the pitch at the KC Stadium in Hull on November 12.
"I've seen where he came from and the things he had to go through and his dealings with the law and all that stuff," Marshall added.
"For me, the most satisfying thing over the last 12 months has been to see him mature as a player, with control and direction in his game now, the things he was lacking.
"The things he was doing in his life in terms of the law and ill-discipline were reflecting in his game and he's now toned that down and everything in his life is a lot more controlled.
"He is in a good place and I couldn't be more proud of him."