The birthplace of rugby league has been closed down due to poor finance
Rugby league bowed its head on Thursday following the news that the sport's birthplace has closed.
By SkySportsPeo
Last Updated: 05/01/13 8:11am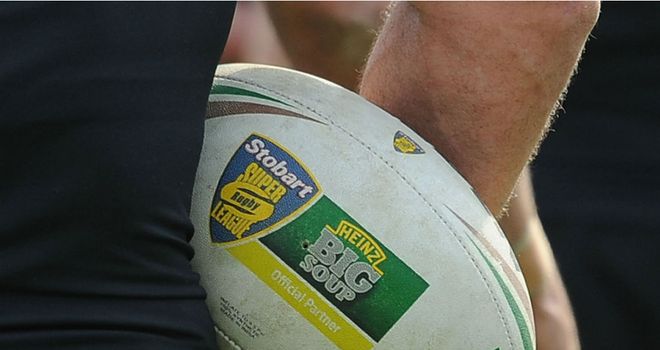 The hotel's owners had been attempting to sell the historic landmark building for the past nine months but after failing to reach a deal closed the doors, possibly once and for all.
The hotel has special meaning for rugby league fans as on August 29 1895 21 rugby clubs held a meeting and voted 20-1 to break away from the Rugby Football Union to form their own union, which became rugby league in 1922.
Although housed in the George Hotel, the museum is owned by Sky Sports rugby league pundit Michael "Stevo" Stephenson who is determined to find a new home for his memorabilia.
"It is a tragic moment for rugby league and I will be endeavouring to find a new home for the museum in the near future, "said Stevo.
"I have dedicated over 45 years into collecting the memorabilia. Setting up the Rugby League Heritage Centre Ltd was my lifetime ambition and at a considerable cost so I will not rest until I find a new location."
The centre, which was opened by league greats Billy Boston, Neil Fox and Mick Sullivan in August 2005, displays memorabilia, including rare shirts, medals, caps, programmes and photographs.
However, the 60-bed hotel was locked down by professional security workers on Wednesday, much to the dismay of guests, some who had come from Qatar.
Blow
The news of the closure is another blow to the sport and another untimely reminder about level of finance in the sport.
The Rugby Football League scrapped their controversial three-year deal with the Stobart Group in July, an agreement which saw the company utilise their 100 lorries to promote the game rather than pay the usual fee for the sport to promote the brand.
Clubs opted to exercise their right to pull out of the deal after 12 months having felt the pinch. In 2012 the Bradford Bulls entered administration over mounting debts despite previously selling their Odsal lease to the RFL.
Days into the New Year and Salford City Reds are the latest club to fall under the financial microscope. The Greater Manchester club cancelled their fixture with Leigh last month and are due in court on January 7 where they face a winding-up petition.
Hopefully the sport and community can rally around the cash-stricken club and the 2013 Super League campaign can be the best season to date since the switch to summer rugby 1996.