Leeds Rhinos captain Kevin Sinfield responded to your questions on Twitter
Sky Sports gave you the chance to question Kevin Sinfield on Twitter and here are the responses.
By @SkySportsRL
Last Updated: 22/01/13 3:55pm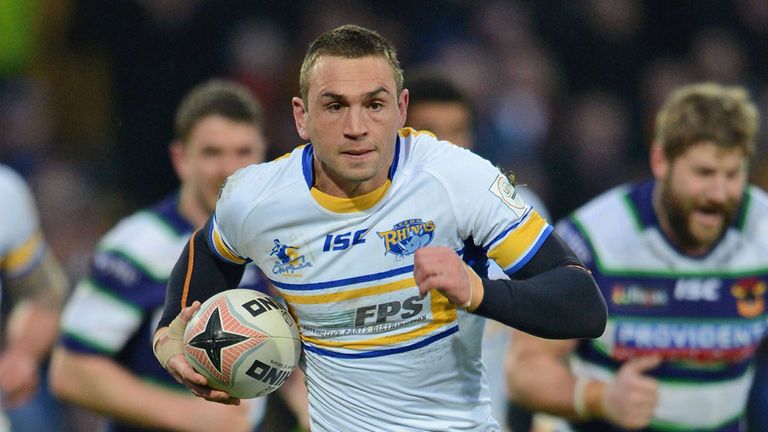 The Oldham-born 32-year-old has helped the Rhinos to six victories in Grand Finals at Old Trafford and explains why he chose Leeds as a teenager.
The Headingley legend reveals the toughest player he has played against while also confirming he would have liked to have tried his hand at rugby union.
@NeilTurnbull_ #AskSinfield would you ever consider switching codes and if so, do you plan on doing it?
Kevin: Yes, I don't think I will get the opportunity now but I have certainly thought about it - it's appealing, I'm a big fan of union.
@cubby1976 is it true a couple of years ago you nearly joined Warrington wolves? #AskSinfield
Kevin: No, that is definitely not true.
@ppalf29 who is the toughest player you have played against? #AskSinfield
Kevin: There's a few. Rugby league's a tough game. I will say one of my team-mates though - Jamie Peacock, thankfully he is on my team now.
@Jharro10 what goes through your head as your preparing to kick #AskSinfield
Kevin: I try and clear everything out and imagine it is just another practice kick; you can't let the tension build in the pressure kicks.
@benjhamer What's been your greatest moment as captain of Leeds #AskSinfield
Kevin: There have been a few. It's a close one between the first Grand Final in 2004 and the Grand Final in 2012.
@Terry_Burdon What career path will you follow after your playing career is over? #AskSinfield btw thanks for the memories #legend
Kevin: I'm currently studying a masters in sports business, so maybe administration. Possibly a role with Sky Sports too - we'll have to see
@rickyflanagan #AskSinfield which if any team do you see surprising everyone or can you see it being the usual few in the chase for the GF
Kevin: Widnes may surprise on the back of what Denis Betts is doing and they have signed Gareth Hock. They are in for a good year.
@HadynLee Is there a scientific reason why you train so early in the morning? #AskSinfield
Kevin: No, it's just to miss the traffic!
@Benit13eight91 Being From Oldham, what made you choose the Rhinos over more local teams such as Wigan, Salford etc? #AskSinfield
Kevin: I was a ball-boy there; but they didn't want to sign local lads. It was a choice between Wigan/Warrington/Leeds, I went with my gut.
@Dannie123Dannie #AskSinfield What is Brian Mcdermott like to work with?
Kevin: He's the best coach I've ever played under. I've played under some brilliant coaches but at this stage of my career, he's just perfect
@Moorhouse97 What Would Kevin Consider His Greatest Achievement During His Rugby League Career? #AskSinfield
Kevin: Captaining England - the Golden boot was a huge honour but captaining your country surpasses everything.