Super League review: Barrie McDermott looks back at all the Super League action
Barrie McDermott says Castleford Tigers will have a major say come the play-offs.
Last Updated: 01/07/13 3:23pm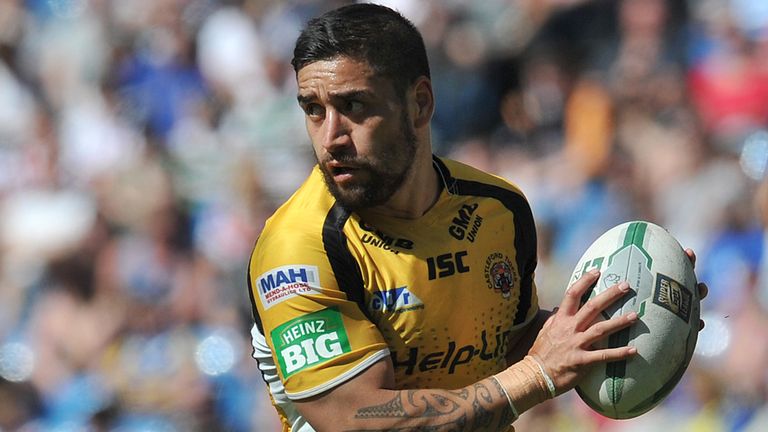 Wigan 4-18 Castleford
Daryl Powell has done a terrific job with the Castleford Tigers - he has got three wins and a draw in the six games he has been involved in. He has got the players to believe in themselves and in the club. This win was not a fluke. I believe that Castleford will have a say in what happens at the end of the season. They are starting to gain some momentum and I think that will carry them off to the play-offs. Wigan were missing Sam Tomkins, Lee Mossop and Sean O'Loughlin - O'Loughlin is the leader and their talisman. He takes those tough carries and really gets his hands dirty and does the things that allow players like Tomkins to show off their talents. Wigan are not quite right at the moment but every team is going to have a slump. It won't be long and somebody is going to feel their full force again.
Huddersfield 60-16 Catalans
Huddersfield, with the likes of Danny Brough and Shaun Lunt, are in a rich vein of form. They are playing some fantastic rugby league but the attendances are just so low. I really don't know what the players and the coach can do to attract the crowds - it is a real shame. I am hoping that some of the on/off fans will get behind the club and really start supporting them full-time. Catalans are a good side - well coached, well drilled with a lot of international standard players and for Huddersfield, to not just show tremendous skill and ability in attack, but to then show the same pride in defence was fantastic.
St Helens 12 -24 Hull KR
Hull KR will really miss Michael Dobson when he leaves at the end of the season. He will leave a hole because he is the goal kicker, the captain and really leads them well on the field. His goal kicking is a real focus for Hull KR because more often than not four points gets turned into six points. Hull are not a one man team though. The one light at the end of that tunnel is the form of Travis Burns and they also have a big pack of forwards who like to get physical - they determine who wins the game, and players like Dobson determine by how many. St Helens have had a lot of injuries and are just not right at the moment. Saints fans are looking at their nine losses so far and are thinking that maybe they need to scratch 2013 out because it is just not their year. It is not down to lack of effort because they are really putting their all into the games. Nathan Brown is bearing the brunt for their failures so far but he is a quality coach. The injuries have happened to key and senior players so they have had to replace them with young players who have not quite got the same experience or skill set in terms of dealing with adversity. Brown was not happy with some of the refs decision but for me Hull KR were worthy winners.
London Broncos 30-44 Salford
Brian Noble has inherited a group of players at Salford and he needs to see where they are in terms of their ability and whether they are worth keeping on board. Jodie Broughton is certainly worth keeping on board and played very well, so I am sure Salford will want to keep hold of him. Salford will be happy with scoring so many tries but it will be another matter when it comes to their defence. For London, well, the only light for them was Jamie Soward, who has come over from St George. He came on and changed the game.
Warrington 26-12 Bradford
Warrington played their part in Monday's fabulous game against Wigan on Monday and for players to peak twice in a week is quite difficult. Last week Bradford coach Francis Cummins said his players were dishonest which was a harsh thing to say but I think he got what he wanted from his players in the second half.
Widnes 36- 52 Leeds
I don't think Leeds are ever off track because they have won the Grand Final from fifth two years on the trot. Their injury roster is horrendous - 10 first choice players missing. But that has given their young players to be given an opportunity and 17 year-old Liam Sutcliffe is having a whale of a time - he has played seven times in the first team and scored five tries.