Super League: Should Kevin Sinfield hang up his international boots?
We ask the question whether Kevin Sinfield should retire from international rugby league.
By James Pearson
Last Updated: 31/01/14 8:39am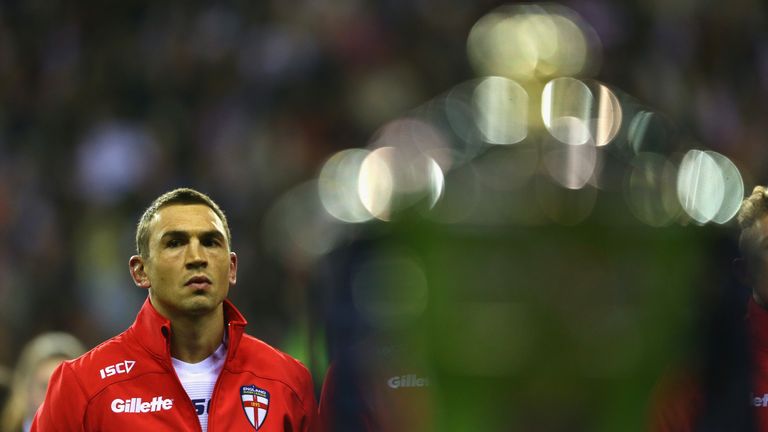 The 2013 Rugby League World Cup might well have been the swansong for the 33-year-old who has served his club and country with distinction for well over a decade.
Sinfield was one of a number of heroes in the semi-finals against New Zealand at Wembley, although he will sadly be remembered for charging out of the line in the dying embers of the game and missing a crucial tackle that allowed Shaun Johnson to break the hearts of one of the host nations.
There is no doubt whatsoever that Sinfield would easily still be able to do a job on the international stage, but with the next World Cup four years away the question has to be asked - is it time for McNamara to look to the next generation?
This is how Sinfield responded when asked whether he had any interest in donning the England shirt once more at the Rhinos' press day: "If Steve feels I can do a job, I'm certainly available. To represent your country is the highest honour you can achieve."
With England having a wealth of upcoming talent in the halves, a list that includes the likes of Gareth Widdop, Richie Myler and Leeds team-mate Liam Sutcliffe, how will Sinfield's potential ongoing availability help the team?
It's not for me to say whether a player should give up the hope of playing for his country again. I couldn't imagine a greater honour for a professional sportsman, but recognising the time is right to go has to be crucial, too.
Pressure
If Sinfield misses out then it won't benefit his successor to have an experienced campaigner waiting in the wings to return should the new man fail to make an immediate impression.
As good a player as Sinfield remains, what would his chances be of making England's World Cup squad in 2017, which could be played in either Australia and New Zealand or South Africa?
However, there is the Four Nations tournament on the international calendar to play for at the end of the season. Perhaps Sinfield feels that if he's playing at a high level he can have another tour and compete against the world's best.
Should Sinfield follow in the example of team-mate Jamie Peacock, who despite still being one of the best forwards in Super League called time on his international career in order to focus on his club, while also allowing him to prolong his legendary career.
What Peacock has done at Headingley Carnegie has been nothing short of remarkable. Not only is the 36-year-old still playing one of the toughest sports in the business, but he is playing as well as he ever has. No player made more metres in Super League last season, while he was in the top five for tackles made and second in the number of carries.
He was a contender for the Super League Man of Steel trophy last season and Leeds have now extended his contract for another two years, meaning he will remain with them until just shy of his 39th birthday.
Having a full off-season to recover from a bruising league campaign can only help the players. When you're called up by your country your season is extended and you don't quite get the break you need when you're older. It is for that exact reason that Gareth Ellis decided to make himself unavailable for England too, having had injury problems in his debut season with Hull FC.
What happens to Sinfield is anyone's guess. I for one am not begrudging Sinfield future success on the international stage, just asking whether he might be better served bowing out with his head held high.