Huddersfield Giants prop Eorl Crabtree catches up with Sky Sports News' Fraser Dainton
By Fraser Dainton
Last Updated: 13/06/14 12:08pm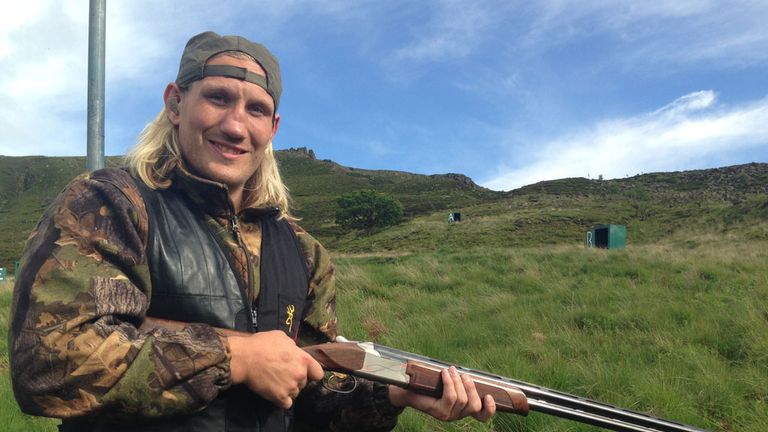 Sky Sports News reporter Fraser Dainton catches up with Huddersfield Giants prop Eorl Crabtree and discovers the 31-year-old likes to give it both barrels on and off the pitch.
Eorl Crabtree strikes an imposing figure at the best of times, but with a shotgun in his hands, he looks even more frightening than usual. Fortunately, I am greeted with the usual broad smile, and the offer of a cup of tea, as we meet at the Boar Clay shooting ground tucked away in the hills above Glossop.
The afternoon rain clouds have conveniently shifted aside, and as the sun shines brightly over the stunning surrounding countryside, he pops another cartridge in to his new pride and joy, and explains why he's taken up this new hobby.
"It was something I always wanted to do," Crabtree said. "One of the club sponsors asked me along to have a go and I was hooked. It's competitive, very tough - tougher than people imagine or give it credit for."
And believe it or not, there are skills he can transfer from his day job. Hand to eye co-ordination is crucial.
"It's all about concentration - there are very fine margins - just like Rugby League," he explained. "It can be relaxing, but also frustrating. When you're concentrating so deeply, you forget everything else. Getting away from it all is important for any player."
Eorl could be forgiven for wanting to lose himself at the beginning of the season, as Huddersfield's defence of the League Leader's Shield wasn't exactly promising.
"There's been a lot of negativity around the camp, much of that has probably come from the lads themselves," he said. "We had a poor start, but we've won the last six out of seven games, and yet there was still some negativity around the way we were playing."
The Giants have gradually climbed their way up the table, and last week's empathic win against Wigan showed signs they're beginning to re-capture their best form. "I know we need to improve, we're trying to do that, but against Wigan we probably started that improvement," Crabtree added. "We haven't really dominated games. We've had moments where we've lacked concentration, and we've let teams back in to the game - against Wigan we didn't do that. They had a few players missing, but for us it was definitely a confidence booster."
Next is a trip to Leeds, with memories still fresh of a pulsating draw at Huddersfield earlier in the season, when a flurry of late drop-goal attempts failed to separate the sides.
Crabtree said: "Seeing Kevin Sinfield's kick go up, hit the posts and bounce back out again was one of the most relieving moments of my life - never mind in Rugby League terms! We felt we deserved a bit more than that, but as Leeds always do, they fought to the death."
This could be a good time to go to Headingley. The Giants are rested, having not played in the Challenge Cup at the weekend, and several big name players are missing for the home team. Crabtree however, won't underestimate them.
"They're always going to bring in quality players. It's more about our own game because if we're not at the races, we will lose - it's that simple. You can't rely on other teams having players out. We know we have to put in a massive performance."