Super League: Leeds full-back Zak Hardaker determined to repay support
Last Updated: 16/06/14 9:38pm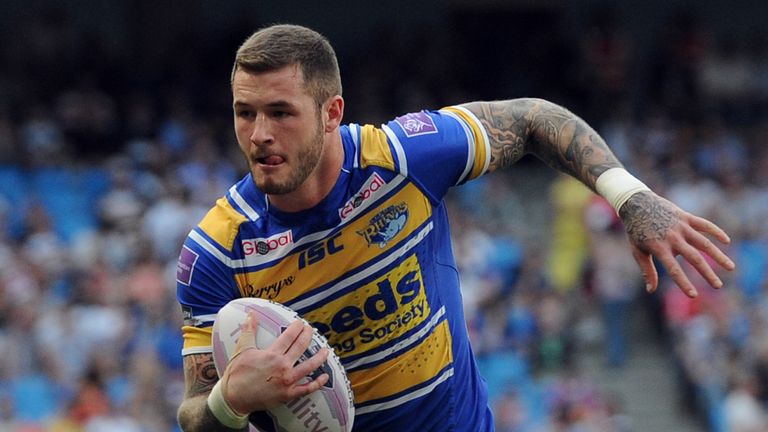 Leeds full-back Zak Hardaker is determined to repay the support he has received during his recent difficult times.
The 22-year-old was banned for five games for making a homophobic comment during a Super League match earlier this month.
The suspension came while Hardaker was already on a warning from Leeds for the breach of discipline that resulted in his expulsion from England's World Cup squad last November.
But Leeds coach Brian McDermott and England boss Steve McNamara have stood by him, confirming his place in his plans for the end-of-season Four Nations Series.
Hardaker still has four games left to sit out but his suspension has not prevented him from linking up with the national squad for their mid-season training camp in Loughborough, from where he spoke for the first time about the latest controversy to threaten his burgeoning career.
"It's really good to be back in," Hardaker said. "Obviously the things that happened last year were a bit disappointing but my form this year has been pretty good and Steve McNamara has picked up on that.
"He rang me a couple of weeks back and asked me to come back. It was an overwhelming phone call and I was really thrilled."
Hardaker was understudy to Sam Tomkins at the World Cup and was recalled after producing the best form of his career in the first half of the season.
But he feared the worst when his homophobic comments during the Rhinos' defeat at Warrington were picked up by the game's disciplinary chiefs.
"A stupid comment comes out and it could ruin your career," he said. "I was like Jesus what's happened here - everyone was going mad about it.
"I didn't realise how bad it was at the time. Obviously the thought was going through my head then, am I going to get banned, how many games will I miss?
"It was a case of do I get to miss England again or is he going to stick with me?
"All those things were going through my head. The last week was a bit troublesome, my head was all over the place and I didn't know what to expect.
"But a day or two after the investigation started Steve texted me and I was under no illusion that he'd be right by my side.
"You can't get more comforting than an international coach saying that to you, so that really sparked me on and made me feel happy about myself.
"I went to the tribunal and got five games which wasn't very good, but on the bright side I will be even more to get back on the field and the backing from Steve Mac is brilliant."