Super League: London Broncos boss Joey Grima happy to rebuild his side
Last Updated: 12/07/14 4:42pm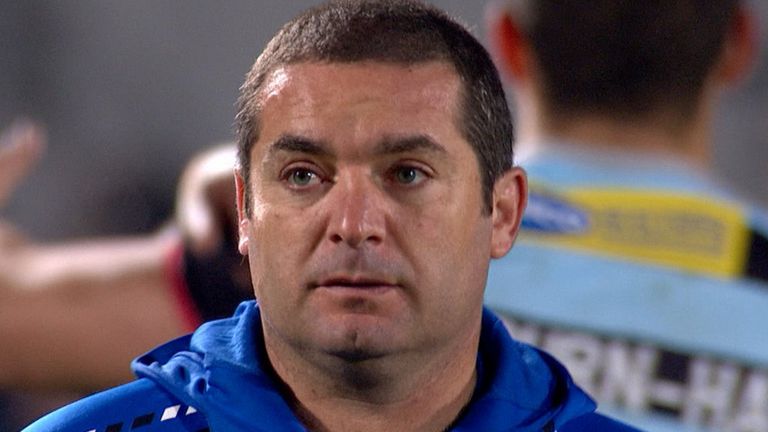 Joey Grima may be facing confirmation of long-expected relegation for the London Broncos this weekend but the coach is upbeat as he continues to rebuild his side.
The Broncos' fate will be sealed if Salford defeat Hull on Saturday evening and if the Londoners fail to end their 19-match losing streak at Warrington in Sunday's only Super League game.
Following a year of financial upheaval and mass player departures, the club were firm favourites for relegation to the Championship before a ball was kicked back in February.
Grima has been gearing up for the inevitable since taking over the reins from fellow Australian Tony Rea in May, wheeling and dealing in the transfer market as rival Super League clubs pick off the cream of his crop.
In actual fact, considering all we've been through and the road that we've come, our morale is very, very good.
Joe Grima
Already rising centre star Mason Caton-Brown has gone to Salford, overseas forward Atelea Vea has signed for St Helens and hooker Scott Moore is on his way to Castleford.
But Grima has lined up most of the replacements, and has appointed Scotland international Andrew Henderson as assistant coach from November.
He insists, however, that he is still focused on making the most of the rest of the Super League season. "It's a question of creating an environment for the players where they find training enjoyable," he said. "It's not too hard to keep them focused.
"In actual fact, considering all we've been through and the road that we've come, our morale is very, very good.
"We've lost five or six players to other Super League clubs and I've advised seven or eight players that they're not required next year but, even with that additional pressure, the morale in the joint has been really pleasing.
Confidence
"Given our lack of on-field confidence, it's been really surprising. It could be much, much worse."
The Broncos have already made the worst-ever start to a Super League campaign, are on course to become the first team to go through a season without a win, have conceded 100 points in their last two matches, and now face a Warrington team chasing a ninth successive win.
Grima said: "I don't have an assistant coach, I don't have a stats man or an analyst, I'm doing all of that by myself but I put my head on the pillow and go to sleep knowing I've done all my processes during the week and I'm satisfied that my team is best prepared."
Warrington, who will equal their best run since 1987 if they complete the double over the Broncos, have veteran prop Paul Wood back from a three-month absence with a torn bicep and will give a debut to centre Toby King, who turned
18 on Wednesday.
"It will be a good birthday present for him and it's well deserved," said Wolves assistant coach Richard Marshall.
"He's being doing really well with the Under-19s and has been with the first grade for a few months so he's used to our systems and the way we want to play.
"He'll be made up to make his debut."