Tetley's Challenge Cup: Rob Burrow eager to end Leeds' poor record in Cup finals
By Jonathan Doidge
Last Updated: 22/08/14 1:27pm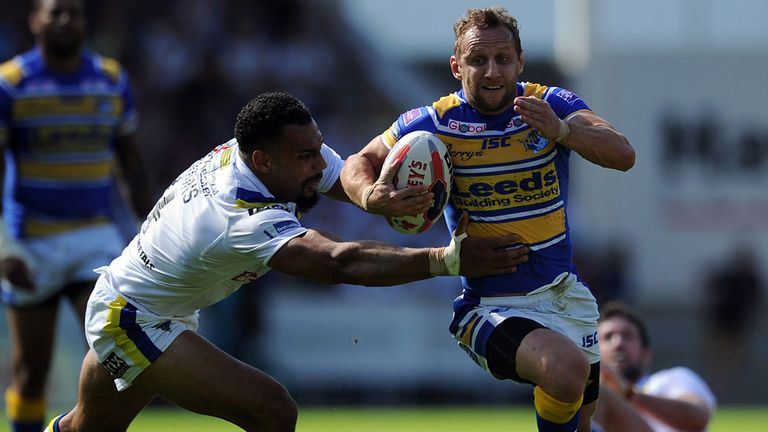 Leeds stalwart Rob Burrow cannot wait to return to Wembley to face Castleford and says the Rhinos' hat-trick of defeats at the national stadium will have no relevance come Saturday's match.
For a team that has won three World Club Challenges and six Grand Finals in the past decade, it seems incredible that they have lost six Tetley's Challenge Cup finals since their last success in 1999 against London Broncos.
Three of those were away from Wembley when the stadium was being rebuilt and the other three were under the shadows of the famed Twin Towers in 2010, 2011 and 2012.
"It's great to be back in a final. It's something you aim for every year," Burrow told Sky Sports.
"We don't look at the past. Obviously we've not won there but to us it's irrelevant. If we'd have gone there six times and never been beaten it wouldn't matter because this year is completely different."
To those on the outside looking in it might seem that the Rhinos have some psychological problem when turning out in the capital, and a defeat to London Broncos in Super League last weekend could add fuel to that.
In reality, however, the 17 beaten on Sunday was very different from that which will walk out in blue and amber on Saturday and, shrugging his shoulders, Burrow added: "We've not really nailed a performance at Wembley like we have in other big games but we'll certainly be giving it all we have got to do that this year and it will be needed against a quality team like Cas.
"We've not played well on the day. I'd say it's definitely been nothing to do with the occasion or the venue.
"We've played in all the big occasions that you can play in in club rugby league and we've been relaxed and well prepared going into all those finals, so the occasion has never got to us as people might think.
"I think each time we've just gone out there and met a team who have come out and played better than us and got a lead and we've not been able to respond well enough.
Past is in the past
"The past is completely irrelevant to us as a group of players. On Saturday it doesn't matter what we have won or what we have lost in the past. It's something for you guys in the media to ask, why can't we win there or whatever, but all that really matters is how we play on that day.
"Previously it's just been a game that we've lost because we've not played well."
The clubs have come up against each other twice in Super League this season, with the Rhinos winning away earlier in the campaign and, more recently, a hard-fought draw at Headingley and the former-international half-back is expecting more of the same.
"They've been close games, both of them," he said.
"I was injured and missed the win at Cas, but I played in the draw and I'd say that we are two very evenly-matched sides with little to choose between us.
"I think this game will be ferocious. We know that they would love nothing more than to beat us and we are expecting an incredibly tough struggle but at the same time I think it will be hugely exciting because there are two quality teams who want to win it."
As for his own team, Burrow admits that the Rhinos began the season in fine form, but despite their lofty league placing they have failed to fully fire for much of the past three months, aside from the odd occasion such as their recent semi-final win over Warrington.
"We're like any Leeds team. We've been up and down," he said.
"At times we've been fantastic but we've also had our poor games too so we're happy enough with the Warrington effort although we know that just repeating that won't be good enough in a final and we need to be better to beat Cas. We have to find a nine-and-a-half or ten-out-of-ten performance to beat them.
"In Super League's weekly rounds you can sometimes get away with little bits here or there in your performances and manage to win, but on Saturday we can't do that. This is it. It's a final. If we don't perform we will get punished."