Rangi Chase relishing Magic Weekend debut for Widnes, and holds no grudges against Castleford
By Keith Moore
Last Updated: 18/05/17 8:00am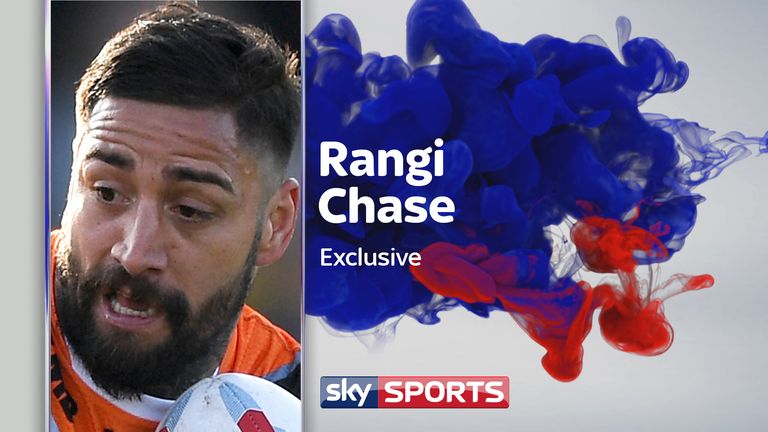 Rangi Chase has told Sky Sports there is no better time than Magic Weekend to make his Widnes debut, and insists he holds no grudges against former club Castleford.
Chase is on a season-long loan at Widnes after being told by the Tigers he is not part of their long-term plans, with the view that some game-time for the Vikings may result in a contract offer from them at the end of the season.
The 31-year-old says he has no ill feeling towards the Tigers, despite the lack of playing opportunities in 2017.
"It is what it is; there were people in front of me and I wasn't getting much game time," Chase told Sky Sports. "I wasn't part of their plans next year, so I understood where they were coming from.
"I got an opportunity to come over here [to the Vikings]. I can remember speaking to Widnes about five years ago - eventually I ended up here.
"I'm excited about it, I'm not down about it. I feel happy that I'm here and I just want to start playing.
"It's weird not being a Tiger anymore but things change in life, you've got to move on. This is another chapter of my life and I've got to get on with it."
The former England international was full of praise for his former club and its fans.
"Cas will always have a big place in my heart, it's where I started and where I made my name. The Cas fans are awesome, they're unbelievable.
"I've had nothing but positivity from Cas, from the fans and all that - nothing but love and respect, which is what I've always had for them."
Despite only linking up with the Vikings this week, the 2011 Man of Steel looks set to feature for them against Trinity in Saturday's opening fixture of Magic Weekend, and he says there couldn't have been a better occasion to mark his debut.
"I think the concept of it, with all the teams getting together and playing within two days, is awesome for the fans.
"It's one that I personally look forward to. All the fans love it, it's a good day out for them. Even for a neutral fan who doesn't know anything about rugby league, seeing all the teams come together over a couple of days is a great spectacle.
"Over the last few years, it's been a good success. As a player it's good to be playing in the first game, I can't wait to kick it off."
Chase said that while he is working hard to familiarise himself with the structures of his new club, he has been given the green light by the coaches to play his natural game.
"The coaching staff have been great to me," he said. "They've given me a licence to do what I want.
Sometimes things don't pan out the way you want them to; I've just got to crack on. I've come here upbeat and I'm happy.
Rangi Chase on his Widnes move
"They've said to back myself and not be afraid to play what I see, and to throw the ball around. It's a good thing to hear, it gives you confidence in yourself.
"That's the type of player I am, I like to play what I see. I like to express myself on the field.
"It will take time, I have to get used to the players and the calls. It's not going to happen straight away but I'm fairly confident that I can play some decent footy."
Chase said his Widnes team-mates have made the move easy on him, ensuring he embedded himself in the team at short notice.
"The boys have been terrific. I knew a few of them already, there is about a handful or more that I know, so I fitted in straight away.
"I'm just excited to be jumping out there with the boys, and playing some long minutes. I was enjoying my rugby where I was anyway, but I'm excited about the challenge.
"We've got a good group of boys here, I just can't wait to get playing alongside them."
Chase, who made his professional debut for West Tigers in 2006, says he hopes he can make an immediate impact at his new club who find themselves rooted at the bottom of the Super League table.
"I just want to bring some energy into the squad, I'm just here to bring some enthusiasm and hopefully get the boys excited about playing.
"I'm excited to play with them, hopefully that goes both ways and we can start getting some confidence in ourselves, because we've got a good team.
"Things happen, and when you take a few losses your confidence goes down, but hopefully I can bring a bit of excitement to the team and we kick on.
"We definitely need a few wins, there's no doubt about that. We'll get a few players back from injury, some key players, which helps.
"I'm excited about the challenge. I've trained the last two days and I can see there is a spring in everyone's step - I just want to get out there and play."
Chase says it has been a surreal week after leaving Castleford, but maintains the best way to get to grips with things is to get on the field where he feels at home.
"It is a bit weird leaving the Tigers, but I'm just looking at the positives. There aren't any negatives around it to be honest, it just didn't work out and that's it.
"Sometimes things don't pan out the way you want them to; I've just got to crack on. I've come here upbeat and I'm happy. I was happy at Cas as well, there's no ill feelings towards them or anything.
"It is what it is, I'm just getting on with it and I can't wait."
Watch all six Magic Weekend game live on Sky Sports, starting on Saturday with Widnes v Wakefield on Sky Sports 2 from 2pm.