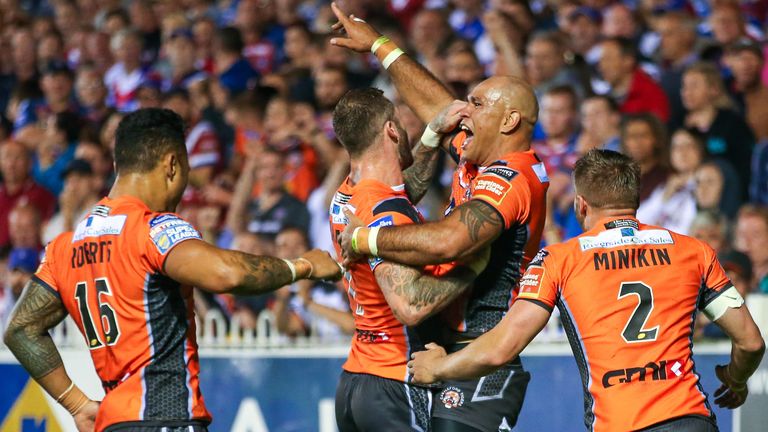 After claiming their first domestic league trophy in 91 years, Castleford are now aiming to conquer the world.
Fresh from their 45-20 victory over Wakefield that secured the Super League Leaders' Shield with four Super 8s rounds to spare, Tigers chief executive Steve Gill has confirmed they will take their place in the 2018 Dacia World Club Series.
When Castleford went close to lifting the League Leaders' Shield in 2014 they, and 2013 winners Huddersfield, both made it clear they would not be in a position to post the £170,000 bond required to act as hosts and therefore would not participate in the newly-expanded six-team World Club Challenge.
Now the bond, brought in to cover the travelling costs of the visiting Australians, has gone up to nearly £200,000 but three years of progress on and off the field have made the West Yorkshire club financially solvent and Gill says they are relishing the chance to host one of the leading NRL clubs at the decaying but atmospheric Mend-a-Hose Jungle.
"We want it down here at the Jungle in front of our fans," Gill said. "If we can sell it out, we'll make a profit. We've got plenty of time to do that. I would imagine everybody would want to be part of that.
"It's something that I could not allow not to happen to this club.
"We weren't financially able to do it three years ago. Our groundswell of support isn't as good as it is now.
"Our players want to be in it and our fans want to be part of it. It will be a great night."
The Rugby Football League has set aside the last weekend in February for the 2018 World Club Series, featuring the Super League leaders and Grand Final winners against their NRL counterparts.
If Castleford go on to win the Grand Final, the other Super League place would go to the runners-up.
Tigers coach Daryl Powell, who inherited a team struggling at the foot of the Super League table when he was appointed in 2012, is already anticipating another big occasion at the Jungle.
"I think for us to get an Australian team here, on our own patch, and show them what we've got and really challenge ourselves would be an outstanding experience for all of us," Powell said.
Gill, who has played the major role in transforming fortunes of his home-town club off the pitch, says they have come a long way since being forced to sell 2014 Man of Steel Daryl Clark to help stave off the threat of administration.
The club, who collected a £100,000 prize for winning the League Leaders' Shield, are thought to have bolstered their squad for 2018 with the signing of former Huddersfield centre or second rower Joe Wardle from Newcastle Knights and Gill says the intention is now to emulate big-city neighbours Leeds in building a dynasty for long-standing success.
"These things take time, we've been building for this," Gill said. "In one of my early interviews, I said in five years' time I want us to be competing regularly in the top four.
"We've tweaked a bit for next year and I think we'll be just as strong if not stronger. We'll have another crack at it and hopefully we can build a bit of a dynasty a bit like Leeds Rhinos."
Eighty minutes from a maiden Grand Final appearance at Old Trafford, coach Daryl Powell will take his players on a mini camp to Tyneside to prepare them for their next challenge.
"It's one game at a time as always and our concentration will now be on Huddersfield a week on Friday," Gill added.
"We've got a good break now because of Wembley and the lads are going up to Newcastle for a few days to do some training up there."