Wigan and Hull stars relishing chance to shine at Wembley
By Stephen Owen & Keith Moore
Last Updated: 22/08/17 9:37am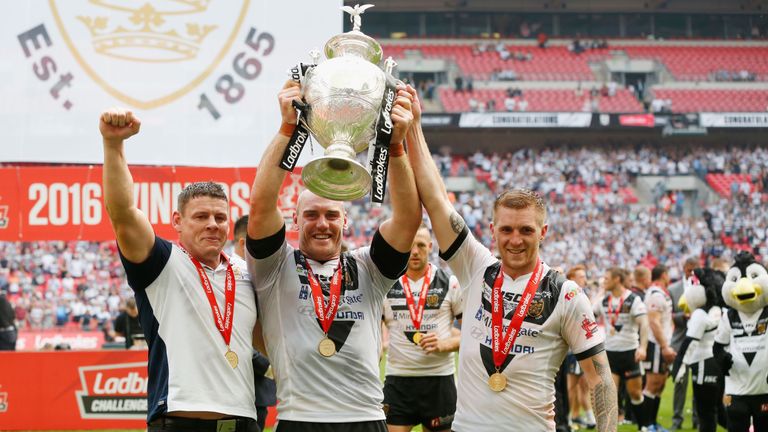 On Saturday the Ladbrokes Challenge Cup Final will be contested by the defending champions and the competition's most successful team, and Sky Sports went to speak to some of the stars who will be on show at Wembley.
Wigan have won 19 trophies over the years while Hull FC came from behind to beat Warrington in the 2016 showpiece, which was settled by Danny Houghton's famous tackle on Ben Currie inches from the line in the closing of the match.
Marc Sneyd won the Lance Todd Trophy for his role in the Black and Whites' win that day, and the scrum-half says the euphoria took time to fade.
"It was a little bit surreal if I'm honest," said Sneyd. "It's obviously sunk in now, but it took a while. It kind of feels like you're floating on air a little bit when you're there, you're waiting to wake up - it genuinely feels like a dream.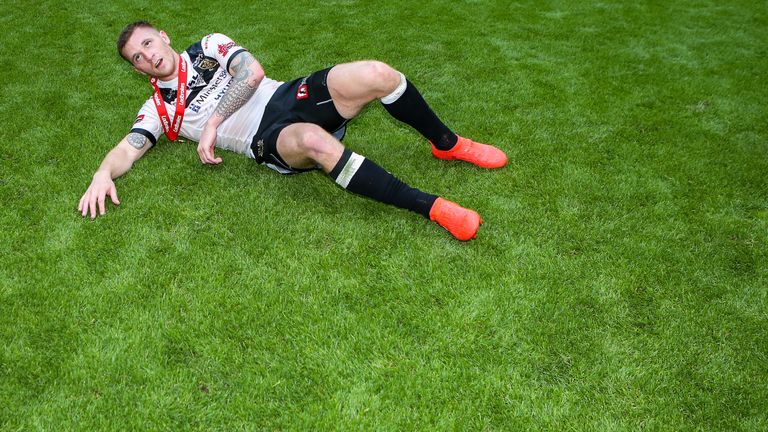 "Walking up those steps to lift the trophy is an unbelievable experience."
Sneyd's team-mate Mahe Fonua has fond memories of standing in the tunnel ahead of kick-off.
"You hear 70,000 people - both sets of fans - just yelling and cheering, and the hairs on the back of your neck stand up," said the Tongan international.
"When the England national anthem was being sung, just to be a part of it was a good feeling. It's pretty surreal to be walking out onto that Wembley pitch."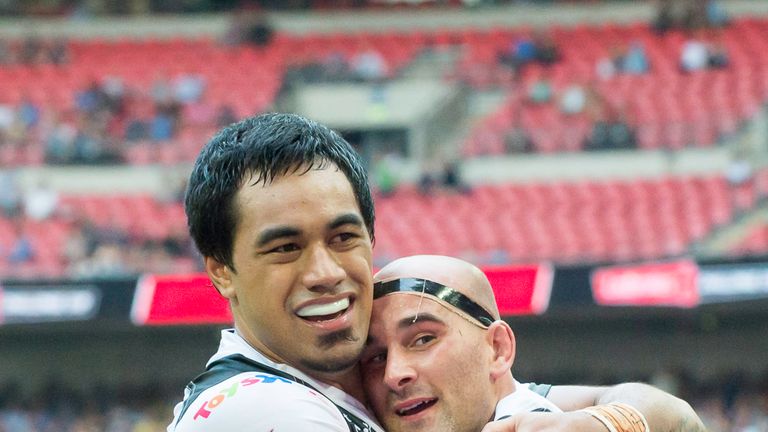 Hull are back in this year's final where they will take on the team that beat them at the last hurdle in 2013, and Warriors stand-off George Williams is relishing the chance to make his Wembley debut this weekend.
"It's going to be massive," said Williams. "Growing up as a kid I went to a few finals - even when Wigan weren't playing.
"The walk to Wembley is great as a fan, so to feel it as a player now is going to be special."
The 2013 title was Wigan's second in three years, with a member of their current squad watching from the sidelines in the club's 2011 win over Leeds.
"A memory that stick out for me was when Joel (Tomkins) ran down the touchline in the 2011 final," said Oliver Gildart. "I had gone up with the Wigan scholarships lads - that was my first experience of Wembley.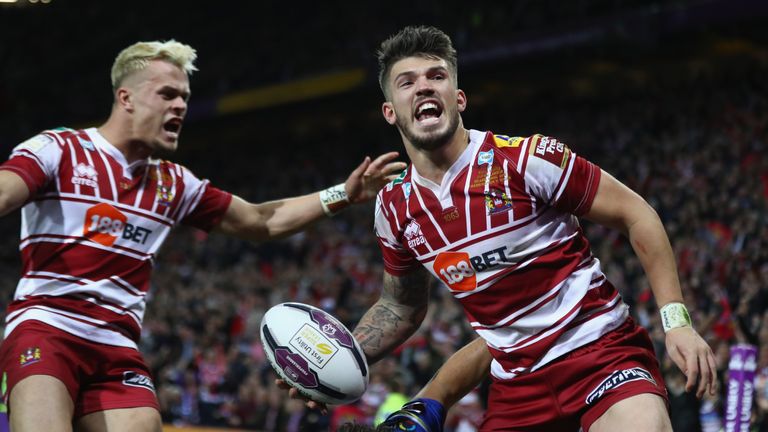 "It's buzzing, it's got a different atmosphere from the Grand Final. I spoke to Sean O'Loughlin and some of our senior lads about it and they said it's a completely different feeling so I'm looking forward to it."
The centre says he won't be overawed by the occasion on Saturday.
"One thing I've learned from playing in the last two Grand Finals is to just soak it in a bit and not to get too worked up," he said.
"I think I did that with my first Grand Final, I'm just going to enjoy this one."
One person who did not have an enjoyable experience of a final is Sneyd, who was hauled off the field in the first quarter of Castleford's loss to Leeds in 2014 by Tigers boss Daryl Powell.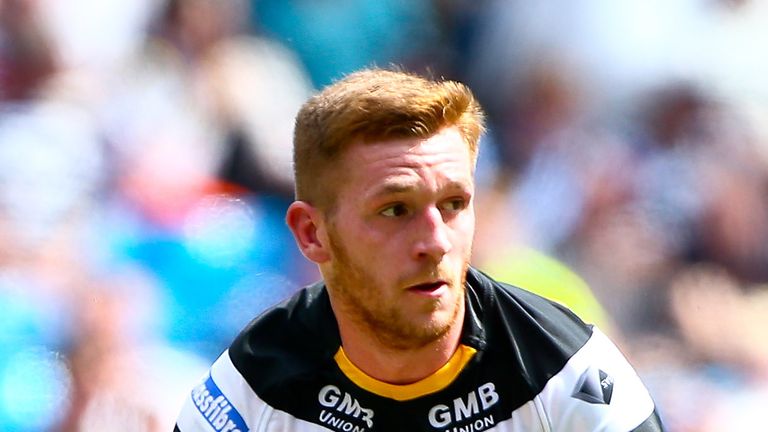 "That was probably the lowest part of my career, getting dragged off in a Challenge Cup final after 15 or 20 minutes," said Sneyd.
"That was Daryl's choice at the time, and he's the coach so you have to respect his decision. I've come to terms with it, and luckily enough I had a chance to rectify a few things last year which was really good."
Not everyone gets an opportunity to redeem themselves in the Challenge Cup, and Fonua believes the final is special for exactly that reason.
"It's the best of the best," said Fonua. "It's a knock-out competition, so it's really good because it's a matter of turning up on the day.
"There's no second chances, so you're only going to get the best footy from both teams. It will be a really good spectacle to watch."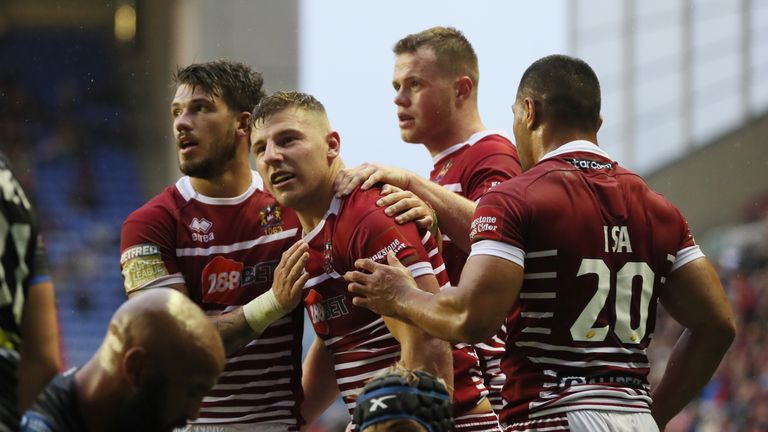 While Gildart and Williams may not have played at Wembley, the pair were integral to the Warriors' Grand Final win over the Wolves last year, and Williams says that experience will help them this weekend.
"They're big occasions," said the 22-year-old. "I've been fortunate to play in a couple of big games so far, but this is a totally different venue and maybe even more people, who knows, but either way I can't wait."
Gildart echoed Williams' sentiments: "I've dreamed of it so many times as a kid growing up, this week it's finally going to happen for me.
"It's another final that Wigan have got into at Wembley. We've got a really good record there, it's going to be a great day and I can't wait. Hopefully, the fans can get down there and cheer us on."
Tickets to Saturday's Challenge Cup final are still available, buy yours by clicking this link.