Chase could miss Cup clash
Castleford coach Terry Matterson says he may be without star half-back Rangi Chase for the Challenge Cup semi-final against Leeds.
Last Updated: 02/08/11 4:36pm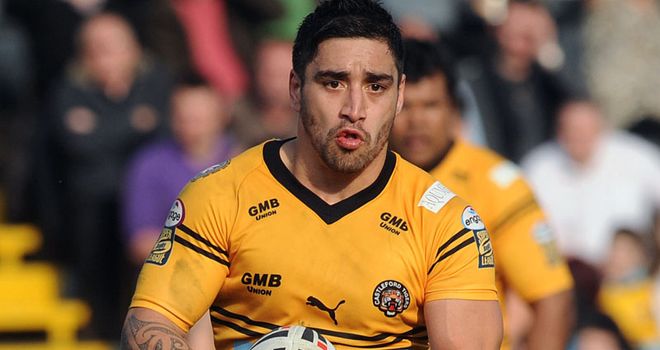 Castleford coach Terry Matterson says he is preparing to be without star half-back Rangi Chase for Sunday's Carnegie Challenge Cup semi-final against Leeds at Doncaster.
The 25-year-old New Zealander must make a 24,000-mile round trip on the eve of the contest to attend a court hearing relating to an alleged incident that took place before he joined the Tigers over two years ago.
Castleford have refused to elaborate on the case but Matterson confirmed the player will be returning Down Under this week and hinted he may not be able to facer the Rhinos.
Matterson said: "We have been aware of this for some time. It wouldn't have been relevant if we hadn't made the semis but I'm preparing to be without Rangi."
Chase has been in fine form this season and Leeds captain Kevin Sinfield says his side will be preparing to deal with the threat posed by the former Junior Kiwi.
"I rate him very highly. He's been one of the stand-out performers in Super League this year. He's got a bag of tricks. He's always thinking outside the box and trying things," Sinfield said.
Threat
"He's probably their big danger threat. We've got to prepare for him playing. I don't think anybody really knows what's going on inside that Cas camp and we won't get to find out until two o'clock on Sunday.
"We've got to prepare for Rangi Chase to be playing and prepare for Cas' best performance of the year, whether that be with or without Rangi."
Doubts over Chase's availability took Leeds coach Brian McDermott by surprise but he says his team are preparing to line up against him.
He said: "That's the first I've heard of it. We've been practising this morning and done a thorough preview of Castleford with him in that team. We're preparing for him."
Castleford will have Chase's half-back partner Danny Orr back after he sat out Sunday's Super League match against St Helens, while prop Rob Parker is also expected to return.
The Tigers will also be boosted by the return of forwards Stuart Jones and Paul Jackson, while Matterson confirmed that Martin Aspinwall will feature after making his comeback against the Saints.
Leeds are expected to be at full strength with the exception of veteran centre Keith Senior, whose season was ended by a knee injury sustained in the fifth-round win over Harlequins in May.