Ellis: England will catch up
Gareth Ellis is confident that England will be able to close the gap on Australia and New Zealand over the coming years.
Last Updated: 27/10/11 3:57pm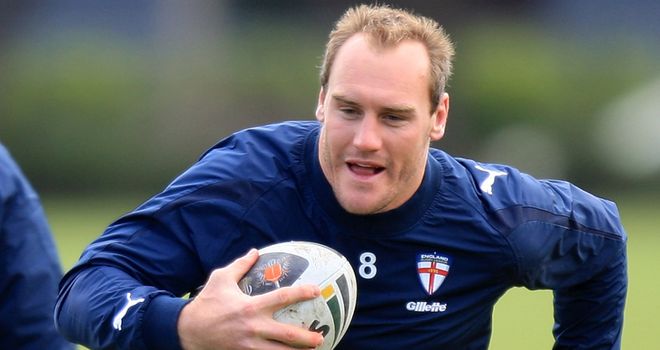 Gareth Ellis is confident that England will be able to close the gap on Australia and New Zealand over the coming years.
The second-rower, who currently plays for Sydney-based Wests Tigers in the NRL, has been a regular in the England team over the last seven years.
And he believes that the professionalism of the current national set-up will see them competing on a level footing with the world's best in the future.
"It's a step up from anything I've ever experienced before in terms of professionalism," Ellis said of the England training camp at Loughborough University.
"It's time we repaid that and stepped up to the mark. All the work that the conditioners and coaching staff do and the administration behind the scenes is brilliant and a pleasure to be around.
"We are ranked third in the league but I'm not sure the teams above us will be doing as much as we are.
"I think if England stick at it for long enough that gap will get smaller and in the long run we will catch them up."
Preparations
Before England get a chance to put their preparations to the test against the Kangaroos and Kiwis, they open their Four Nations campaign against Wales at Leigh on Saturday.
"I'll be honest and say I don't really know a lot about Wales," Ellis added.
"A few of the boys have played against some of their players but I've not played against many at all, apart from obviously the key man, Lee Briers.
"The talent he's got is unquestionable and, if he's on song, he'll really test us. A lot of it will be around stopping him. They'll be viewing this as a game that - if they are going to get a shock or a performance - this is probably the one for them."
Meanwhile, the 30-year-old Ellis has confirmed that despite his success Down Under, which has seen him named Wests' player of the year for three straight seasons, he still wants to return to England before the end of his career.
He said: "I love coming home. Towards the back end of the year I look forward to getting back on English soil and catching up with the family.
"I've got two years left at the Tigers and then I'd like to finish off my career over here.
"It surprises people, especially in Australia, but I'm pretty adamant that I'll come back. I never went with the intention of staying. I'm really enjoying what I'm doing but I do definitely see myself coming back."