GMB anger at breakaway group
The GMB trade union has condemned an attempt to establish a Super League Players' Association.
Last Updated: 16/01/12 4:05pm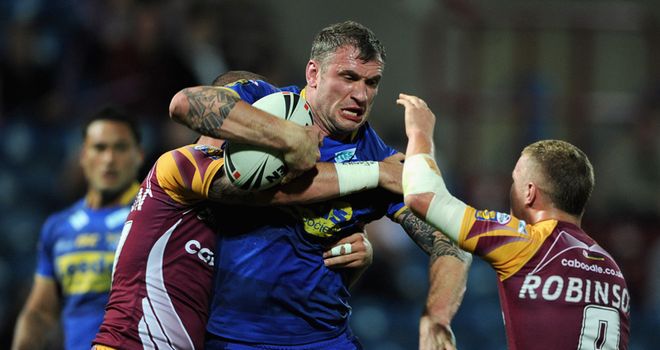 The GMB trade union has condemned an attempt to establish a Super League Players' Association, claiming it would not be able to cater properly for players' interests.
England captain Jamie Peacock and St Helens forward Jon Wilkin are among those behind 1eague3, an organisation designed to bring rugby league players alongside their colleagues in football, rugby union, cricket and golf.
The new body, which will be launched in Manchester next Monday, say they have membership applications from 75 per cent of professional players from the 14 Super League teams
GMB, who claim to represent more than 800 rugby league players, insist they are better placed to represent the players.
Disappointed
Geoff Burrow, father of Leeds scrum-half Rob and head of the GMB's Rugby League Players' Association, said: "GMB is angry and disappointed at the announcement of a breakaway group.
"I am accusing those behind it of trying to create an elitist organisation that has no experience, no skills or any back-up to look after players' interests.
"1eague3 say they want to bring rugby league players in line with footballers but this alone shows their total lack of knowledge and experience, as footballers from all leagues are members of their union, not just the Premier League.
"And I would question exactly what players will get for their £10 per month to this breakaway body.
"GMB has put 300 of our rugby league members through training courses, subjects as diverse as gym instructors, personal trainers and even cookery so that we equip players to have a profession to turn to when their playing career comes to an end.
"This doesn't cost them a penny and that's truly looking after players' interests."
Divide
Tim Roache, regional director of GMB, added: "GMB has secured half a million pounds in compensation on contractual and playing disputes in the last two years alone.
"Much of that work has been done by our union's employment experts. How on earth is a breakaway body, with no experience or track record, going to match that?
"Jamie Peacock and Jon Wilkin should be honest with the players they are trying to recruit and accept they have no money, no back-up and no structure to look after them and they will be walking them over a cliff.
"GMB has asked both Jon and Jamie to become GMB representatives, especially as they are both still members, rather than trying to set up a splinter organisation.
"All that will do is divide us all and play into the hands of those who want to get players on the cheap."