Tomkins committed to Wigan
Sam Tomkins is eager to play rugby union for the Barbarians again, but insists that he is not planning to switch codes permanently.
Last Updated: 23/01/12 5:24pm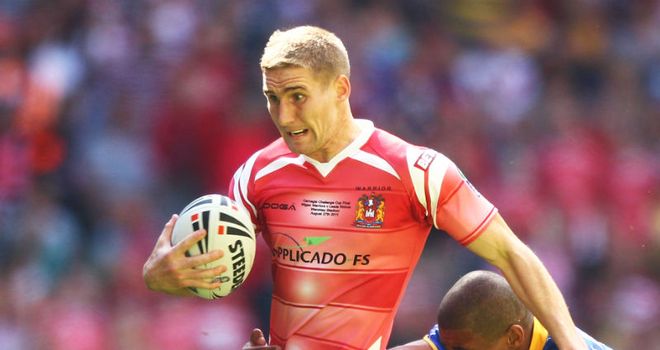 Sam Tomkins is eager to play rugby union for the Barbarians again, but insists that he is not planning to switch codes permanently.
The Wigan and England full-back, whose brother Joel recently switched codes to join Saracens, made a guest appearance for the Baa-Baas in November of last year, scoring their only try in a 60-11 defeat to Australia.
Speculation had been rife that the 22-year-old could follow in the footsteps of his brother, but he instead signed a new five-year contract that included a clause preventing him from talking to other clubs for at least three years.
And although he says he enjoyed his first taste of the 15-man code and would not hesitate if invited back for more, Tomkins is not angling for a cross-code switch.
"It was just an opportunity I felt I couldn't miss. It was the chance to play a different sport at a stadium like Twickenham. Not many people get the chance to play there," he said.
"I didn't want to look back later in my career and think, 'why didn't I just do that?' There was no reason not to.
Opportunity
"It was by no means trying to see what union's like. It wasn't a job interview or anything like that, like people said.
"It was purely a case of getting an opportunity to do something different and I'd certainly play again if I got offered the chance.
"I'd bite their hand off to play again. It was a great week building up to it, just a completely different environment.
"Obviously we got battered and no one enjoys that but I got a taste for it and next time, if I got to play a different position, I could get more involved."
Tomkins, who finished last year as Super League's top tryscorer, will get a run out in Wigan's friendly against Salford at the City Reds' new stadium on Tuesday night after just eight weeks of off-season rest.
Success
The highlight of Wigan's 2011 campaign was victory in the Challenge Cup, with the Warriors being knocked out of the Super League play-offs at the semi-final stage by St Helens.
Tomkins now hopes that the squad can build on their recent success under new coach Shaun Wane, who stepped up from assistant coach to succeed Michael Maguire at the end of last season.
He added: "There were a lot of things that went pretty well. As a team we didn't finish off the year as we wanted to but we're going to build on that this year.
"Pre-season has gone well so far. The lads are enjoying the training and with Shaun (Wane) and Iestyn (Harris) we've got a good mix on the coaching staff.
"I just want to be consistent and play well week in, week out. I don't want to have any off weeks which I did last year."