Peacock - It's great for Gaz
England captain Jamie Peacock is delighted to see Gareth Hock back in the international fold after an absence of nearly three years.
Last Updated: 13/06/12 4:47pm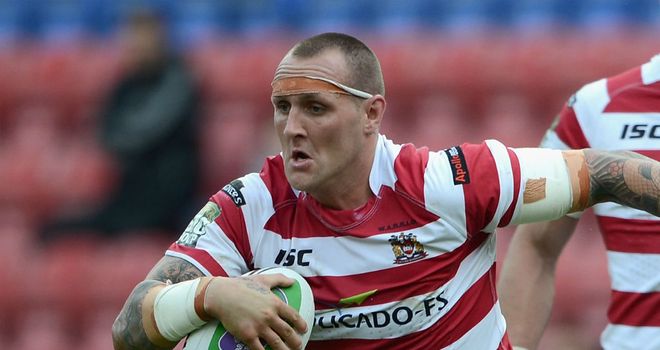 England skipper Jamie Peacock is looking forward to playing alongside Gareth Hock again as the Wigan second rower prepares to make his international comeback.
Hock seems certain to be picked in Steve McNamara's starting line-up to face the Exiles in the opening match of this year's Origin series after a string of fine displays this season in the Stobart Super League.
It will be the 28-year-old's 10th international appearance but his first in almost exactly three years since he featured against France, after which he tested positive for cocaine and was handed a two-year suspension from the sport.
"I think it's great for Gaz," said Peacock at England's training camp at Loughborough.
"It's a good story. People make mistakes but it's a good example of how people should be given a second chance in life.
"I don't think anyone would disagree that he is head and shoulders probably the best forward in the competition.
"That's good for England because people don't like playing against him and I know the Exiles won't like playing against him."
Outstanding form
Hock - who was left out of the England squad for last year's Four Nations Series - has been in outstanding form for his club, much to the delight of national boss McNamara.
"You never quite know when someone is out for that period how they will come back," the former Bradford Bulls coach said. "Two years is a long time.
"We all understood how good Gareth was before. He could have gone one of two ways and thankfully he's gone the right way.
"He paid the price for what he did and served his time. A great deal of credit needs to go to him for the way he has come back and also for the way his club managed him on and off the field in terms of rehabilitating him, rather than throwing him to the wolves."
At least Hock will be rested for the challenge of facing the Exiles - he has only just completed a two-week ban after being shown a red card in Wigan's Magic Weekend win over St Helens in Manchester.
"I've had two weeks off so I'm a bit fresh," he said. "I'm looking forward to this week, it's a big test for me. It's been hard getting here but I'm feeling good again."