Shaun Ainscough is quitting Bradford Bulls to play in Australia
Winger Shaun Ainscough has confirmed he is leaving the Bradford Bulls in order to further his career in Australia.
Last Updated: 29/10/12 1:48pm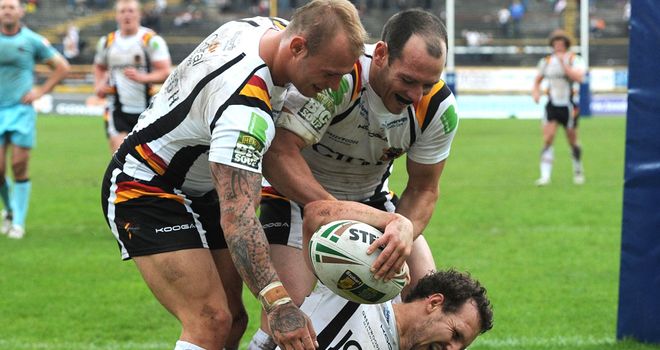 The former Wigan, Widnes and Castleford player turned down reduced terms from the Odsal club and instead intends to head Down Under.
The 22-year-old insists it was not an easy decision rejecting Bradford, who endured a turbulent 2012 season off the field after entering administration.
Ainscough is now looking to join the growing trend of British talent heading for Australia with the ultimate aim of playing in the NRL, although he is not ruling out playing for the Bulls again in the future.
"Just to let everyone know I loved every minute at the Bradford Bulls and would have loved to have stopped but financially add all costs up was just," he wrote on Twitter.
"I had to make one of the hardest decisions of my life and try my luck in Australia playing rugby. Never knew things would end up like this but I can't wait for the chance to play in the country in Australia.
"Am going to give it my all into my new team for 2013 and like to thank the fans especially after the adversary we been through together as one big team.
"You should be proud one big family. That alone will take the Bradford Bulls far in the future. I will be back."