Steve McNamara hailed his "outstanding" England players after their Three Nations final triumph over France
England coach Steve McNamara reflected on a job well done after his side's Three Nations final win over France.
Last Updated: 12/11/12 6:41am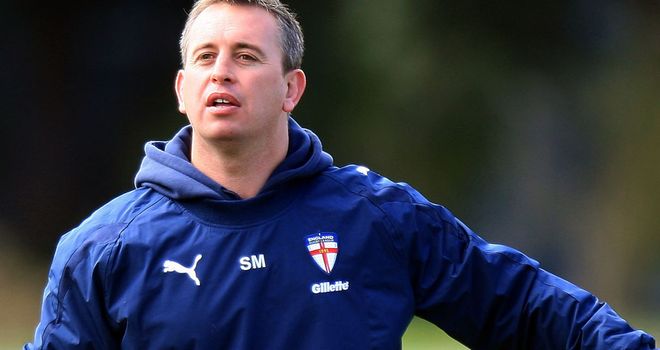 McNamara's men ran in eight tries, with Ryan Hall grabbing four of them, against a weakened France side for a 48-4 Three Nations final success.
And while McNamara is aware that Australia and New Zealand will provide a much tougher prospect next year, he says the preparations for the World Cup could not have gone better.
"We have had 24 players who have been outstanding," he said, recalling a month-long spell with his squad which started with a training camp in South Africa.
"We have some outstanding young players and everyone has been strong, even those who haven't really played. Everything we have done has been very important.
"We are a very united group, a very strong group and we have all enjoyed it, staff and players.
"We were red-hot favourites and expected to do well, so the players have been exceptional and a credit to the Super League.
"I'm not saying what we're doing will guarantee us success, but it will give us the best opportunity. You can't put a price on what this has done for us."
And McNamara admitted he had been impressed by a France team that had six part-time players among their ranks.
"France made it difficult, they really rolled their sleeves up," McNamara added. "It was a difficult game as far as trying to get some momentum going. France controlled the speed of the game a lot better this week than last."
While France were heavily depleted, England, for all their comparative riches, also had a absent list, with a number of players based in the NRL not available.
Star forwards Sam Burgess and James Graham will be back in a year's time, as will centre Jack Reed and half-back Gareth Widdop.
"Another good thing about this is that the 17 players we have used in every game are Super League-based players," McNamara said.
"This is a Super League England team and when you add the players from the NRL, it'll be tough to pick a team next year."