Stephen Wild issues rallying cry as Salford crisis deepens
Salford captain Stephen Wild says the Reds squad will stick together as doubts over their future increase.
Last Updated: 13/12/12 5:30pm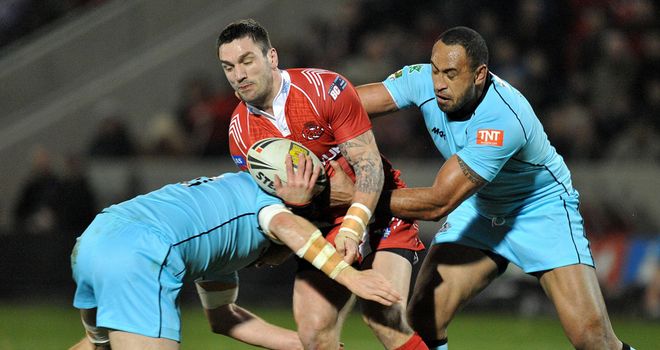 Wild is still coming to terms with the news of the local council's decision not to offer a £750,000 bail-out loan to the cash-strapped club.
The shock over that decision is still being felt, but Wild hopes a solution will soon be found, with the start of their pre-season campaign just around the corner.
"All the players honestly believed everything was done and dusted and that the club's future was secure," Wild told the Manchester Evening News.
"That was the message we were getting and being given, then this goes and happens. We couldn't believe that the deal was off. To be told the council were not going ahead with their plan was a massive blow.
"What's happened is not good for everyone associated with the club. The players are obviously wanting to know where they stand in all of this.
"I have told all the lads that we just have to try and stay calm and stick together. What else can we do under the circumstances? I know for a fact that people at the club are currently working very hard to try and find a suitable solution.
"I was fully expecting everything to go through and that we would be in a position to strengthen the squad right away.
"I can't see that happening now but we just have to try and get through. This is not the news we wanted to hear - especially with Christmas coming up. All we can do as players is to keep reporting for training and preparing the best we can. It's not easy but we just have to keep going."