Leeds Rhinos winger Ben Jones-Bishop out for up to six months
Leeds Rhinos winger Ben Jones-Bishop has been ruled out for up to six months with a lung problem.
Last Updated: 03/01/13 2:48pm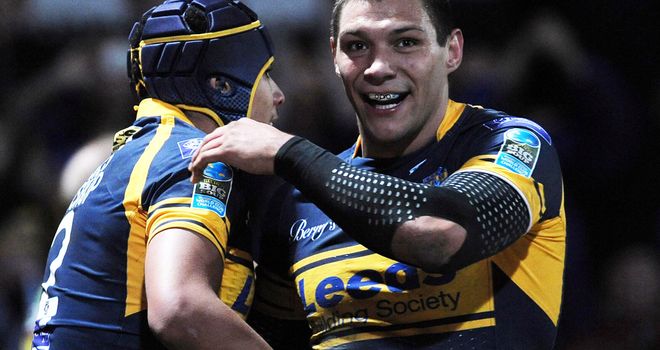 The England Knights winger has been advised to avoid all contact for three months whilst he undergoes a course of treatment.
Jones-Bishop, who scored 23 tries last season and featured in the World Club Challenge and Grand Final wins as well as the Challenge Cup Final, can then resume full training.
But Rhinos head coach Brian McDermott will still be without one of his star performers for a large proportion of the 2013 campaign.
"The condition was picked up by the medical and strength and conditioning staff during pre-season training and Ben was sent to see a specialist prior to Christmas," Leeds Rugby's Head of Medical Services Dr Jon Greenwell told the club's official website.
"He has had a pulmonary embolism (blood clot in the lung) which has led to him needing treatment for three months.
"A consequence of that treatment is that he cannot play rugby until after the treatment is completed and he has been given the all clear by his specialist.
"Ben is still in light training but under advice from the specialist he is unable to play for three months. We are confident the treatment will resolve the problem."
The player himself is remaining positive as he looks to battle back to full fitness.
"It is obviously disappointing to miss the start of the season but I am looking forward now and doing everything I can to get back as soon as I can once I am given the all clear," he said.
"It is a relief to get it diagnosed and get treatment and to know that it is not a life-threatening condition.
"Generally I am in good health but as a sportsman you need to resolve these issues as soon as possible to make sure that you can perform to your maximum."
McDermott admitted the loss of Jones-Bishop is a blow but was also confident for the 24-year-old's future career.
"It is a real shame for Ben that he will miss the start of the season. He finished the season in great form and was a big player for us in our big games last season," he said.
"We have no major long term concerns that this will impact on Ben's career and he will receive the best possible care over the next three months to make sure that the issue is resolved and he can resume playing."