Melbourne Storm to train with Halifax as part of World Club Challenge preparations
Melbourne Storm will train with Championship side Halifax as part of their preparations for the World Club Challenge.
Last Updated: 20/01/13 6:49pm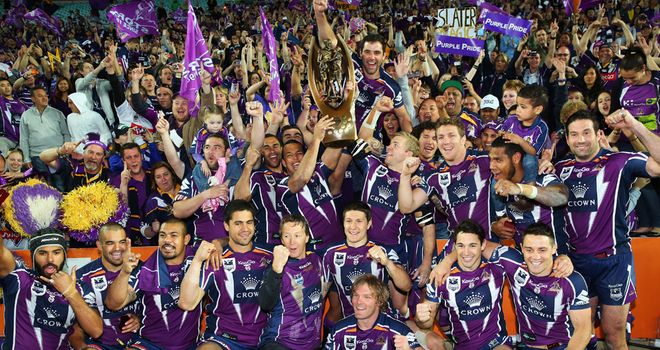 Melbourne will fly to England on February 11 and spend five days in London before heading up north to set up camp.
They will contest a training session against Halifax three days before taking on the Super League champions on February 22, marking the third time the pair have met in the World Club challenge.
Despite the drastic change in temperature as well as jet lag to contend with, Storm manager Frank Ponissi insists his side will be prepared when they face Leeds.
"We will be going 100 per cent against Leeds," Ponissi said.
"We know we're not quite going to be at our best by then but we have to be as close to it as we possibly can.
"We have 10 days to get ready, adjust to the time zone and the temperature and get some quality intensive training in those conditions."
Ponissi's men played a warm-up fixture against the Championship side in 2008 and Halifax coach Karl Harrison said their 'semi-contact' game is likely to take place behind closed doors on February 19.
Speaking to the Halifax Courier, Harrison said: "It's not full contact but it's not no contact either.
"Melbourne wanted a good practice session and it suits us too. We'd normally be doing the same kind of thing against our Under-20s.
"It will be good for our boys to be on the same field as their players."