England coach Steve McNamara targets elite squad continuity
England coach Steve McNamara says there will be few surprises when he announces his latest elite training squad.
Last Updated: 04/03/13 4:21pm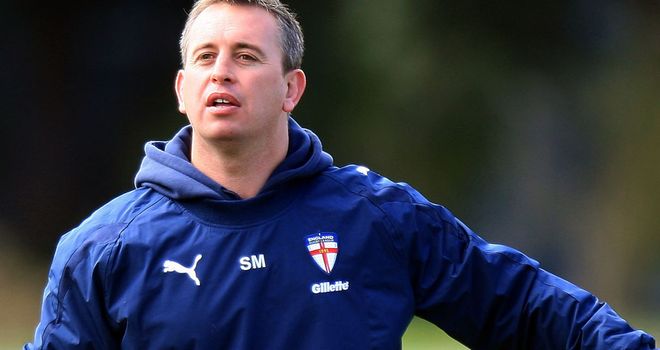 The 41-year-old is preaching the virtues of continuity as he continues to prepare for the World Cup, with the opening match against Australia just over seven months away.
The former Bradford coach used only 18 players from his 24-man squad throughout the 2011 Four Nations Series and last season called on 21 players for the three autumn internationals.
"The vast majority of the squad will have continuity about its make-up," McNamara said. "We will reward those players that have been part of the programme over the past couple of years.
"They continue to be the most consistent performers in the Super League each week, which is testament to their qualities as rugby league players.
"It is important for the development of the national team that the core of the squad is used to playing with each other and are firmly ingrained in the overall England programme.
"Our philosophy has always been about creating a 'two-team' mentality within the national set-up, where we get buy-in from every individual.
"This is now our biggest strength and that enables us to create a winning mentality, where the players believe they will test the best teams in the world."
Revised squad
McNamara, who submitted an initial 40-man squad - that was not made public - to World Cup organisers at the end of last week, will name either 30 or 32 players in his revised elite training squad.
This will not include Australia-based England internationals like James Graham, Sam Burgess, Jack Reed and Gareth Widdop, all of whom are set to be named in McNamara's final squad which will be revealed after October's Grand Final.
The England-based squad will meet up at RAF Cranwell in Lincolnshire over the weekend of 16 March in the first of three get-togethers before the full squad head out to South Africa for a high-altitude training camp in Potchefstroom in early October.