Leeds Rhinos boss Brian McDermott hints at new Jamie Peacock contract
Brian McDermott predicts that veteran forward Jamie Peacock could play "on and on" despite turning 36 later this year.
Last Updated: 19/03/13 1:52pm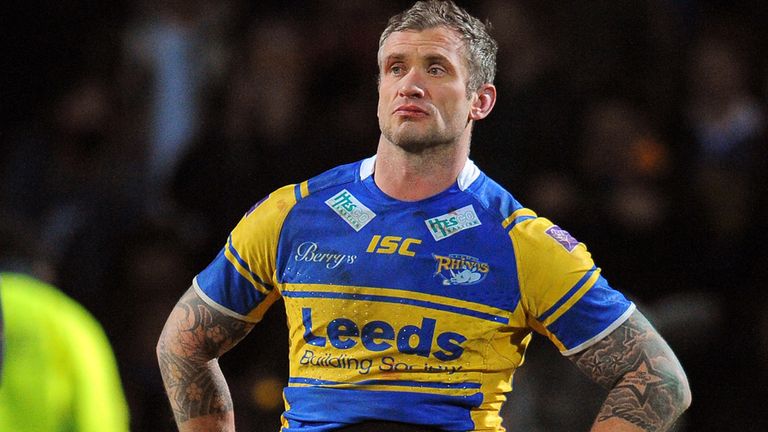 The former England captain has been in superb form all year for the Rhinos after an injury-free off-season and talk is already turning towards extending his contract into 2014.
"All our back row have been playing well - Jamie Jones-Buchanan, Brett Delaney and Carl Ablett," McDermott told the Yorkshire Evening Post.
"But I think our stand-out performer so far this year has been Jamie Peacock. If you want to talk about stats, he wins the metres battles and he is invariably in the top two or three tacklers, with least misses.
"His influence on the games as well is big. He has been influential since I have been here.
"When I first took over he was injured, so he wasn't able to play - but ever since he has been back playing, his poor games are still very, very good."
Peacock has won a record eight Super League Grand Finals - three with Bradford and five with Leeds.
Contract
The veteran prop made his debut for the Bulls in 1999 - where he played alongside McDermott - and is under contract with Leeds until the end of the season, although the Rhinos boss has hinted that he will be considered for an extension.
"It is all to do with the state of (a player's) body and whether they have any chronic injuries," McDermott said.
"If you snap a leg or snap a cruciate, they always can be put back and usually they put them back now in such a state that you are as strong - if not stronger - than you were before.
"But it's the surfaces of knees and joints that are the problem. But if players don't have too many problems with that they can carry on and carry on.
"It comes down to how Jamie Peacock conducts his life and what he does away from the club.
"His favourite saying is the extra mile is a lonely road, because there's not many people on it. That's usually when you are away from the club. I think he has got another good period in front of him."