Jamie Peacock says Leeds can end 14-year wait for Challenge Cup glory
Leeds' Jamie Peacock believes he can win his third Challenge Cup winners medal this season.
Last Updated: 11/05/13 2:24pm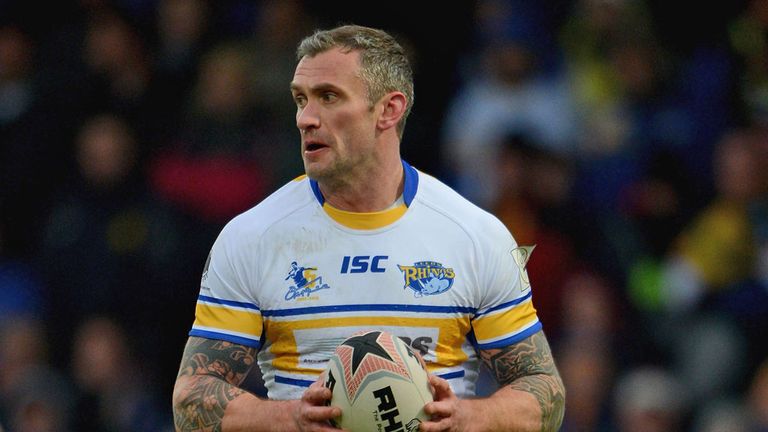 Peacock is the only player in the Rhinos squad to have tasted victory in the cup final, winning twice whilst at Bradford - on both occasions at the expense of Leeds, in Edinburgh in 2000 and in Cardiff 10 years ago.
Leeds - who have not won the cup for 14 years - take on Huddersfield in the stand-out tie of the fifth round on Saturday. And Peacock is confident the Super League champions can go all the way after three straight defeats in the final.
"It's a fantastic competition," he said. "It was the first trophy I ever won as a professional back in 2000.
"I remember it well. The game was nearly off because of flooding on the pitch at Murrayfield. We flew up and were there for four days, which clubs don't do now.
"I played the first 20 minutes, came off and didn't go back on but it was just great to play in a Challenge Cup final."
Form
Leeds go into the match on the back of an eight-match unbeaten run, in sharp contrast to last year when they were limping along in seventh place and only hit their form late in the season to finish in a blaze of glory at Old Trafford.
"It's about desire," Peacock said. "We want to finish higher up the table.
"Some of our younger players are a bit more experienced and add a lot more to the team and guys like myself, Kylie (Leuluai) and Brett Delaney had a full pre-season.
"On top of that, (coaches) Jimmy Lowes and Brian Mac (McDermott) have created an environment that we're thriving in. Players enjoy the hard work and the challenges it brings.
"The worst place to lose is the semi-final because you don't get the chance to play at Wembley but losing in the final is frustrating. This year we could have the team to do it but there are four games to go yet.
"Huddersfield have had the wood over on us in the league. We've beaten them a couple of times in the play-off games when it's counted but we know it's going to be a difficult game.
"I think they're favourites at the moment - they're at home, they beat us earlier in the year and they're higher than us in the league.
"We've been managing to get the wins. We've had a couple of blips - against Huddersfield and Castleford - but, apart from that, we've played well, which is nice to see. We're not cocky but we've got self-belief."