Salford head coach Brian Noble names Stuart Donlan as his No 2
Stuart Donlan has been confirmed as Brian Noble's deputy with Salford City Reds.
Last Updated: 13/05/13 6:37pm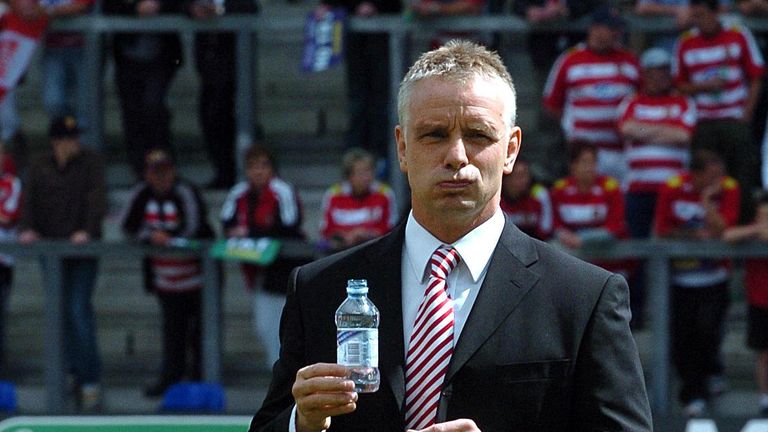 Brian Noble has confirmed the appointments of Andy Hay and Stuart Donlan as his assistant coaches at Salford.
The pair will fill the position vacated by Sean Long, who stepped down last month before joining Super League rivals Wigan.
Donlan, 34, was assistant to Ian Millward at Castleford until both were sacked just over a month ago, while 39-year-old Hay recently parted company with Hull.
"Both come to us with an excellent pedigree," said Noble. "We are virtually up to where we should be now with the strength of our backroom team. Both are straight into it now and it will allow us to spend more time working with individuals.
"This team does have a bit of catching up to do on the coaching front and the more resources we can throw at that, the quicker we will improve."
Salford side are currently bottom of the Super League and were dumped out of the Challenge Cup by holders Warrington on Sunday, but owner Marwan Koukash has pledged to give Noble sufficient funding to strengthen his squad,
Castleford and England half-back Ranji Chase is rumoured to be their top target, but Noble insisted he had no new signings in the pipeline, and urged the club's fans to remain patient.
"It's difficult to recruit in season," Noble said. "The people that we bring in need to complement and improve on the ones we've got in there.
"I suppose we could find some people that may help with numbers if I thought it was a numbers
thing but there are some people I haven't had a look at yet that probably deserve a crack before them.
"It's important that we hold our nerve. We're on a journey and all the right decisions need to be made."