England pair James Roby and Adrian Morley in fitness race
James Roby and Adrian Morley face a race against time to be fit for England's clash with the Exiles next month.
Last Updated: 14/05/13 6:18pm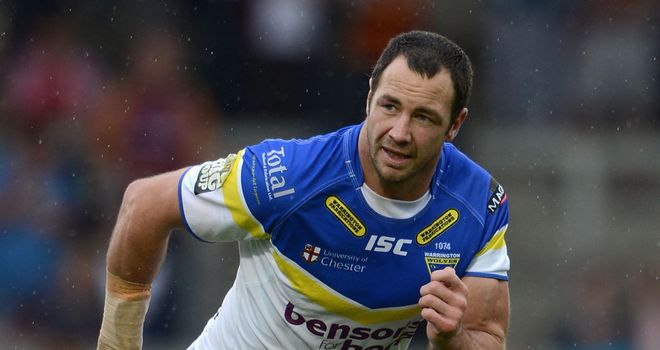 Wolves skipper Morley is set to return from a three-month lay-off with a ruptured bicep this weekend while St Helens hooker Roby, out for two months with an ankle injury, has set himself the target of playing again by the end of the month.
Both players trained at the England elite training squad camp at Loughborough University this week, as coach Steve McNamara steps up his preparations for the game with the Exiles on June 14.
"I'm feeling great," said Morley, who is the most capped British international. "I'm fresh and fit and raring to go."
Morley could get four games under his belt before the Exiles game but Roby admits his lack of match fitness is likely to count against him.
He said: "I had the 'moon boot' on for six weeks or so but I got it off last week and now it's a case of getting back to full weight bearing on the field and twisting and turning.
"They've not given me an exact date but hopefully I'll back by the end of the month.
"I might have only had one game or I might have had two or three games under my belt before the England match so I will have to see where I am at that point and see how my ankle holds up when I do get back."
McNamara put his players through their paces in the third of four camps to be held so far this year and he admits his squad is unlikely to change much before the World Cup, other than to bring in his Australia-based contingent.
That means former Scotland captain Danny Brough's latest eye-catching display for Huddersfield in their Cup win over Leeds is almost certain to have been in vain, although McNamara insists the door is never closed.
Decisions
"When you are picking the England squad, you want to have some difficult decisions to make," he said. "There should be people in really good form who don't make the squad.
"If there's just 30 players or 24 players or 17 players in the squad who are playing well, then we're in trouble as an international team.
"There are lots of players outside our group who are playing well and could quite justifiably feel they should be part of this group as well.
"We pick a squad early in the year to get our programme up and running but there's been some alterations to the group in the past.
"I remember in the first year of the ETS Garreth Carvell and Jamie Jones-Buchanan didn't make the original 32-man squad but they both played in the Four Nations at the end of the year."
McNamara is going out to Australia after the Exiles game to meet up with the NRL-based England players, who now include former Bradford junior George Burgess, the younger brother of established international Sam who has almost certainly played himself into World Cup contention.
"He's not just playing now, he's actually one of the best in the competition in his position," McNamara said.
McNamara will announce a 24-man World Cup squad before the Super League Grand Final, with those not involved at Old Trafford forming the advance party to go to South Africa for a high-altitude training camp.
The coach confirmed that England will play a warm-up match, against opponents yet to be finalised, a week before the opening World Cup game against Australia in Cardiff on 26 October.