Super League: Salford City Reds agree transfer fee for Bradford Bulls' Elliott Whitehead
Salford City Reds have agreed a transfer fee with Bradford Bulls for second row forward Elliott Whitehead.
Last Updated: 19/06/13 7:05am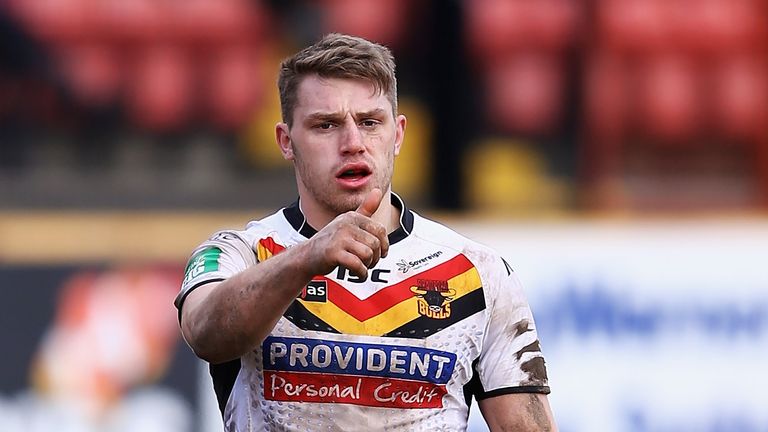 The 23-year-old hasn't featured for Bradford since requesting a move earlier this month, with coach Francis Cummins refusing to pick him.
Reds owner Marwan Koukash says he has agreed a "substantial" fee with Bradford for Whitehead and hopes to finalise a move in time for Friday's Super League game at home to St Helens.
"That would be nice," Koukash said. "We've agreed a deal with the club and now it's up to the player.
"We are talking to him now to see if we can agree personal terms. He's a quality player."
The Bulls were thought to be asking for at least £100,000 for Whitehead, who is under contract with them until the end of 2016.
The Bradford-born player told Cummins that he did not feel the club were making the progress he had anticipated and that he wished to join a top-four side.
Bottom
The Reds are currently bottom of Super League after having two points deducted for having 14 players on the pitch during their win over Castleford in April but Koukash has ambitions to transform their fortunes over the next five years.
Koukash said today the club has "five or six" major new signings for 2014 "over the line" with more in the pipeline, although he declined to name any of the targets.
"At this stage of the season it would be unfair of me to name them," he said.
"Out of respect to their clubs, we're keeping their identities secret at this time."
Investment
Meanwhile, the millionaire racehorse owner has confirmed he is looking to take over a football club, thought to be Oldham Athletic.
He declined to confirm the identify of the club but said it would continue to play in its current home, rather than ground-share at the Salford City Stadium, if his bid is successful.
In an interview with the BBC, Koukash said: "It was a huge club previously and it just needs that little bit of extra investment to take it to the next level.
"By bringing in the personnel that were previously associated with the club at its heyday and bringing people in who are genuine club supporters it will excite the fans.
"Once I get the football club I will definitely have my own TV channel which will cover my three sports: racing, rugby and football."