Super League: Warrington's Adrian Morley and Michael Monaghan fit to face Wigan
Adrian Morley is expected to be fit to line-up for Warrington in Monday's Super League clash with Wigan.
Last Updated: 19/06/13 3:55pm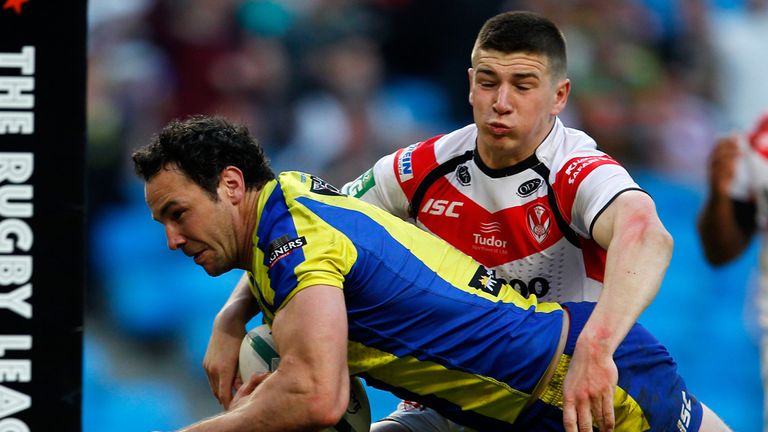 The veteran prop has missed three months of the season already with a bicep injury and was forced to withdraw from the England squad to face the Exiles due to a groin strain.
The 36-year-old prop was not the only Wolves player ruled out of the Exiles match, with Australian hooker Michael Monaghan also disappointed to have had to sit it out, according to Warrington boss Tony Smith.
"Both of them were gutted, they would have loved to have played," said Smith. "Anyone who knows Moz knows how much he wants to play for his country, but he handled it really well.
"By the end of the week he may have been able to play but he wasn't able to train so he (England coach Steve McNamara) didn't use him."
Feedback
Despite being unable to take part on the pitch, Smith revealed that Morley was a very influential member of the squad off it.
"He was a big contributor to the camp, I know that," he added. "That's fantastic feedback for Moz and about Moz."
As for Monaghan, his club coach confirmed that a knee injury meant his participation in the glamour match was never really a possibility.
"Michael's knee after London wasn't crash hot. He rehabbed it but it wasn't fantastic, so we pulled the pin on him," he commented.
"His maintenance of his knee is so important - it's a tough call for him to play an extra game at any stage.
"He's just coming into form and he didn't want to push things himself."
The duo will provide the Warrington squad with a boost ahead of Monday's highly anticipated game with Wigan. The Warriors currently hold a six-point lead over the Wolves at the top of the Super League table.