Super League: Hull KR reject bid for Michael Dobson from Salford
Hull KR have rejected an offer from the Salford City Reds for skipper Michael Dobson but fear losing him to the NRL.
Last Updated: 25/06/13 9:26am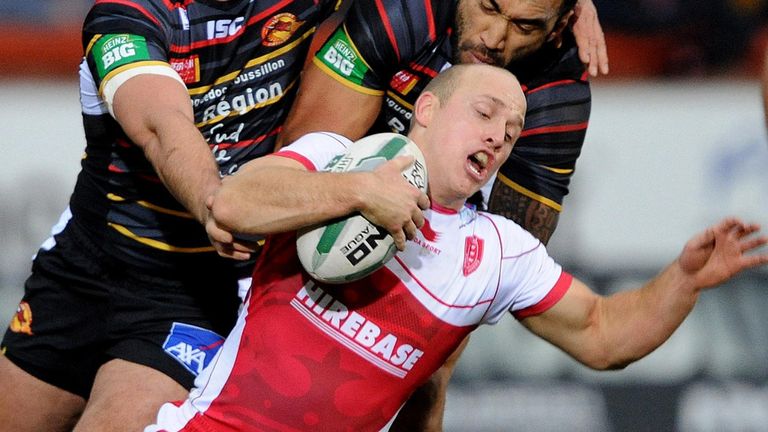 Rovers chairman Neil Hudgell confirmed half-back Dobson had been the focus of interest from Brian Noble's side but admitted he is worried that the Australian will, like forward Cory Patterson, opt for a return home.
Dobson is under contract until the end of the 2014 season but he does have a release clause that expires soon.
"Michael is very intrinsic to what we're trying to do going forward but the reality is that he has ambitions to play in the NRL again," Hudgell said.
"He has a release clause in his contract which he would need to effect in the next week and I'll be sitting down with him later this week.
"If Michael doesn't exercise the NRL release clause, then I'll be speaking to him about extending his contract beyond the end of next season.
"I'd expect to try and agree a new deal with him during the course of this season and, if that doesn't happen, then we'll explore other options.
"We agreed the option clause for the end of this season just to reflect the fact that we're grateful for his contribution to the club during the past five years.
"There are always rumours about him, not just in Australia, but also in this country as well. We've had a big-money offer from Salford for Michael which we've turned down.
"It may be that they come back knocking on our door again in the future and it may be that ourselves as a club, and Michael, have to consider that depending on how circumstances unravel.
"It's a short career and players have to do what's best for themselves. Michael will assess his own ambitions and determine the future career decisions he makes based upon that."