Adrian Morley will join Salford Ciy Reds for the 2014 Super League season
Veteran England star Adrian Morley has confirmed he will join Salford for the 2014 Super League season.
Last Updated: 02/07/13 9:50am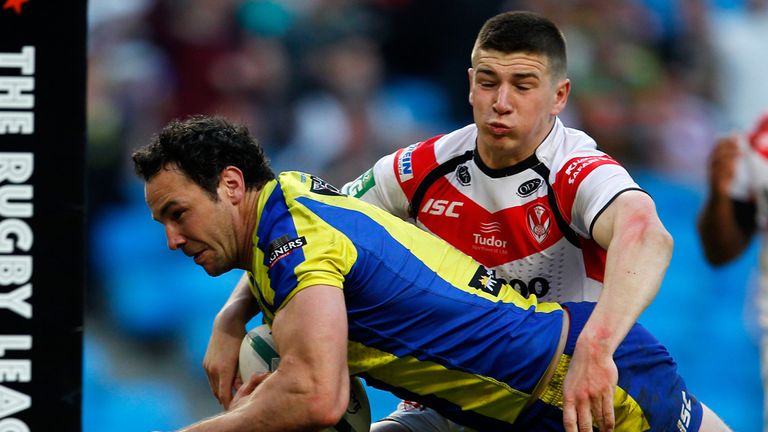 The 36-year-old prop will quit Warrington at the end of the current campaign and reunite with former Great Britain boss Brian Noble at the Reds, who continue to attract big names under free-spending owner Marwan Koukash.
"I have had seven great years at Warrington and memories that will last a lifetime," said Morley, who was born in Salford. "Not only will I leave with winners medals but, more importantly, with friendships that will last forever.
"The decision to leave was not an easy one, but I am very proud of my Salford roots and felt the time was right to finish my career at the club I supported as a young boy.
"However, there is still a lot of rugby to be played and so I will be more determined than ever to make 2013 a memorable season for the Warrington Wolves."
Noble added: "Adrian Morley is an outstanding legend in the game and I am thrilled we have attracted a player of his standing to Salford for next season.
"He brings with him a great example culturally, he has a lot of juice left in the legs and he has an emotional attachment to Salford. Adrian plays to a very high standard and it is a bonus to the fans that he is one of their own.
"Adrian is both a world-class person and player. He is a great communicator and knows what he wants after his life playing the game is finished. Going forward he is a fantastic ambassador for the game, never mind Salford."
Morley's signing comes just 24 hours after the Reds confirmed the capture of Melbourne Storm's Kiwi centre Junior Sa'u - and Koukash is promising another six more high-profile arrivals before the 2014 season.