Austalia coach says New Zealand should be favourites for World Cup
Australia coach Tim Sheens insists New Zealand should be favourites for this year's World Cup.
Last Updated: 08/07/13 5:15pm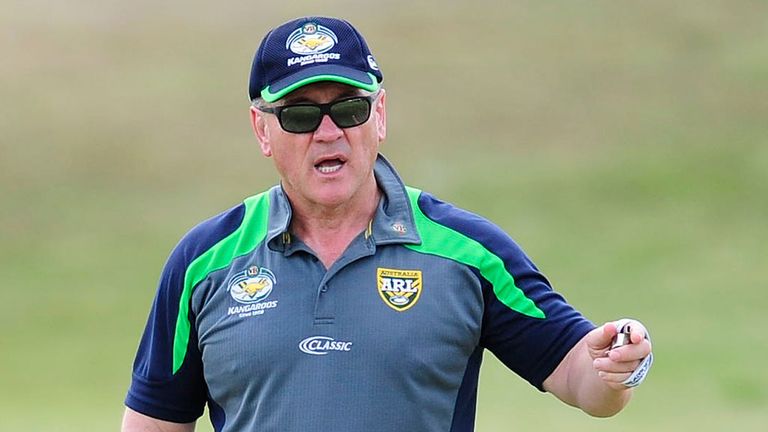 The bookmakers have the Kangaroos at 1-4 to win the competition, but Sheens says the draw favours the Kiwis, the reigning champions who won the last tournament in 2008.
"When I took over at the end of '08, my main aim was to hopefully survive long enough to have a shot at it," Sheens said.
"New Zealand are definitely going to be the team to beat, no matter what anyone says," he said.
"We're not world champions, New Zealand are and I can tell you they'll be very strong.
"I've seen their squad get stronger and stronger as they've blooded the younger blokes over the last two years.
"They've got three options at half now in Benji Marshall, Shaun Johnson and Kieran Foran, a massive pack of forwards and speed and size in the outsidebacks.
"They've hired Ivan Cleary as the assistant, which is a good move, and Kearney has changed his captaincy this year so they're rocking the boat a bit to shake out any issues.
"And generally when you defend a title, that will be a different New Zealand side."
Sheens also believes the Kiwis have been fortunate with the draw, having been paired with France, Papua New Guinea and Samoa in Group B.
Australia are in the same group as England, Fiji and Ireland and, although three teams qualify for the quarter-finals, the group winners will earn an easier passage through to an anticipated semi-final.
That means the Kangaroos' first game against England at the Millennium Stadium is a must-win fixture, according to Sheens.
"Obviously you want to win that first game," he said. "It pretty much means you not meeting New Zealand until the final.
"They will pretty much come through unscathed from their side of the pool so one of us is going to have to end up playing them to get through.
"We might be ranked one but that ranking doesn't come from me," he said. "I know in '09 and '11 we were expected to play New Zealand in the Four Nations final but both times we played England.
"You don't do that by fluke. You might do it one year but you don't do it both times back to back and we had to play very well to win both finals.
"There will be a side that comes out of nowhere that really does well. Fiji for instance will be very strong, depending on who is picked by Australia.
"You are talking about some pretty good players playing in Sydney at the moment that are Fijian. And Ireland in the last World Cup were quite a revelation, they played really well in Australia.
"I know young (Shannon) McDonnell has made himself available and there is Paddy Richards etc.
"You just don't take anything for granted in our sport. Although we're seeded in the top three, our role is to make sure we don't get ambushed."