Super League: Leeds Rhinos hooker Liam Hood is raring to return to action
Dual-registered Leeds Rhinos hooker Liam Hood is raring to get back into action for Hunslet Hawks following injury.
Last Updated: 13/07/13 11:21am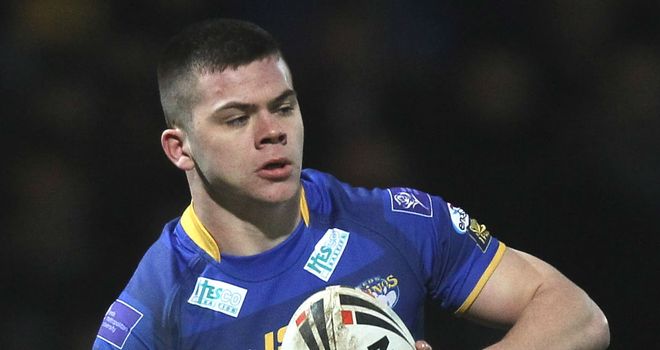 The 21-year-old is due to feature for Hunslet at Doncaster in the Championship on Sunday, his first taste of action since injuring his ankle against Halifax last month.
Hood made his Leeds debut last season and went on to score three tries in five appearances but is yet to play for the injury-hit Rhinos this term.
He is keen to make up for lost time, telling the Yorkshire Evening Post: "It's going to be good to get back out there. It's been a bit of a struggle these last five weeks trying to get back but the injury couldn't have come at a worse time.
"It's never great getting injured but it's harder for me as I'd been waiting to get my shot for Leeds.
"With all these injuries at the Rhinos at the moment it looked like I might get a game especially with Kev Sinfield and Danny McGuire out and Rob Burrow being pushed back to scrum-half from hooker.
"Even if I'd have been coming off the bench at nine it'd have been great but instead I injured my ankle myself playing for Hunslet against Halifax and missed out too."
Bide
Hood admits he must be patient regarding the Rhinos. In the meantime, he is looking forward to giving his all to help Hunslet climb off the foot of the Championship table.
"When you get a taste you just want more. You just want to play week in, week out but I know I've got to sit back and bide my time," he said.
"It's been good playing for Hunslet. I went out to Dewsbury last year and that was a big test for me.
"You really don't know how tough the Championship is until you play there. You might think it's a doddle after Super League but it's not the case.
"It's been good at Hunslet though as they kind of play the same structures as Leeds and similar ideas. It's made it easier for me coming in and I'm looking forward to playing again at Doncaster.
"The aim at the start of the season was to get in the top eight but now we're just focusing on not getting relegated. A win will likely take us off bottom but we know Doncaster will be tough."