Super League: Olsi Krasniqi defends existence of London Broncos
London Broncos prop Olsi Krasniqi insists his side are making progress despite having a torrid season.
Last Updated: 31/07/13 3:44pm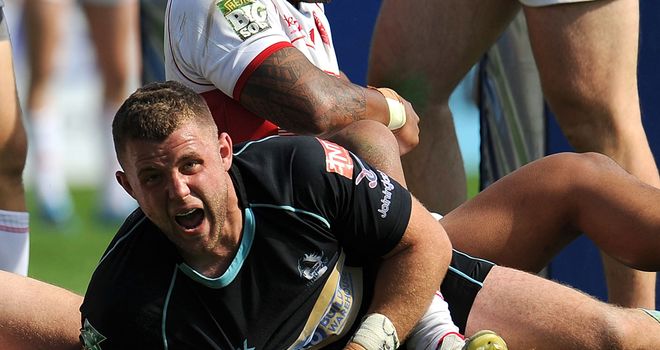 There is no hiding place for the beleaguered London Broncos this week as they face the daunting prospect of a visit from the Super League champions.
Humiliated by Wigan in the Challenge Cup semi-finals at the weekend, the Broncos have been enveloped by a gloom all too familiar throughout their precarious existence.
The 70-0 thrashing at Leigh Sports Village was a new low for what had already been a torrid season and the players could be forgiven for failing to relish the arrival of Leeds Rhinos on Thursday.
Adrift at the foot of Super League after just three wins, the Broncos would now seem to have little reason for enthusiasm for the rest of the campaign.
Yet unlike most clubs, the Broncos are constantly having to justify their existence.
Any team can have a bad year, but when it happens to London the questions about whether rugby league can afford to sustain a presence in the capital usually pour in.
With this year's on-field struggles coming against a backdrop of poor attendances, uncertainty over where the club will play next season and the prospect of Super League contraction, the doomsayers are out in force.
Yet in terms of grassroots development, the game is flourishing like never before in the London area and those involved feel it is too easy to jump to conclusions as the Broncos suffer defeat after defeat.
"I don't know why people do that," said Broncos prop Olsi Krasniqi, one of a number of impressive homegrown products along with Tony Clubb, Louie McCarthy-Scarsbrook (now at St Helens) and Kieran Dixon.
"There is definitely something there. I'm from London myself and there are a lot of players in the team, or have been in the team, who are from London.
"Someone's doing something right down here, we're just not getting the results we should be getting. It's as simple as that.
"We just need to be better and then we won't get the bad reviews and audiences would start coming to the games more."
Tortured
Rugby league has been trying to sell itself in the capital since first taking the Challenge Cup final there in 1929.
The Broncos have lived an often tortured life since they were founded, as Fulham, in 1980.
There have been waves of optimism - notably after takeovers by the Brisbane Broncos and the Virgin Group in the 1990s, their second-placed Super League finish in 1997, a Challenge Cup final appearance in 1999 and the launch of their partnership with Harlequins in 2006 - but all have proved false dawns.
The periods of crisis have been just as frequent and with Super League set for a reduction to 12 teams in 2015, the future is again uncertain.
Captain Craig Gower's decision to quit the club mid-season and replacement skipper Clubb's recent remarks that he wants to leave as he is "sick of losing" have not helped the picture.
Yet Krasniqi feels it is unfair to suggest the Broncos' current struggles are indicative of the game as a whole in London. After all, London Skolars have sustained a presence at semi-professional level for the past decade.
Krasniqi believes the Broncos are simply a shop window that needs to be smartened up.
"If you had a good team from the capital everyone would be saying the opposite," said the Albanian-born 21-year-old, who was raised in Feltham.
"They'd be saying look how well it's working out, like it did with Catalan (Dragons).
"Was everyone saying the same when they first started out? Catalan were bottom their first season.
"I'm sure people started questioning them. We just need to be better."
For now the challenge is to pick themselves up for the remaining five games of the campaign, however difficult, starting with the Rhinos.
Krasniqi said: "It's a quick turnaround and we need to turn it around because that was embarrassing. You can't be beaten 70-0 on national TV."