Super League play-offs: Tony Smith heaps praise on four-try star Ben Westwood
Tony Smith was delighted to see Ben Westwood grab some of the limelight after the Warrington's big win over Leeds.
Last Updated: 16/09/13 10:42am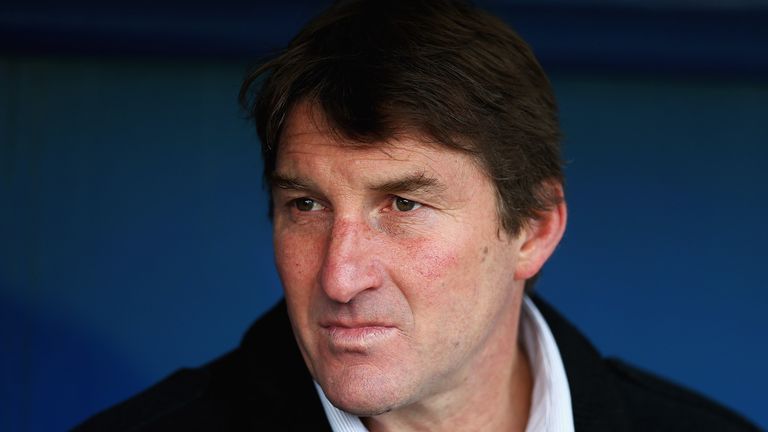 The England second-rower missed out on selection for the 2013 Super League Dream Team but showed his class by running in four tries as the Wolves destroyed their 2012 Grand Final conquerors.
The tough-tackling Westwood touched down twice in each half as the Wolves moved to within 80 minutes of this year's Old Trafford showpiece.
"It was great for him to get some of the accolades. He works his cotton socks off every week doing the rough and tough stuff," Smith said.
"He doesn't always get the spoils but today he got a bit of the cream and put a cherry on top.
"I know he didn't get Dream Team recognition but he's been in good form for months on end."
But the win was not without controversy as Lee Briers was given only a warning by referee James Child after sparking a mini-brawl with a punch on Leeds forward Carl Ablett.
"Sometimes you've got to defend yourself if things are not dealt with in the right manner," Smith said.
Controversy
Leeds coach Brian McDermott distanced himself from the controversial incident, as well as the decision of video referee Phil Bentham to give Westwood the benefit of the doubt for his second try.
"It looked like Zak (Hardaker) had done a fantastic job of holding him up but I couldn't see clearly so I will have to reserve judgement," McDermott said.
"I don't think the Lee Briers incident had a bearing on the game. I don't think he was having such a huge influence on his team."
Warrington now have a week off before being able to select their semi-final opponents, a system which Smith is an arch critic of.
Smith said: "I have no preference and I'm not going to participate in it. If they make me go, I will happily toss a coin."
Leeds were blown away by Westwood's efforts either side of half-time and, although full-back Hardaker touched down for two late tries, they finished a well-beaten side.
"We finished a lot worse than we started. In the first 10 or 15 minutes we were not far away from where we needed to be but midway through the second half we were not there at all," McDermott said.
"Warrington were very good. Physically they dominated the game and executed some brilliant plays."