Tim Sheens plays down England's troubled build-up ahead of opener
Coach Tim Sheens says Australia are taking little notice of England's build-up to the Saturday's World Cup match.
Last Updated: 26/10/13 2:12pm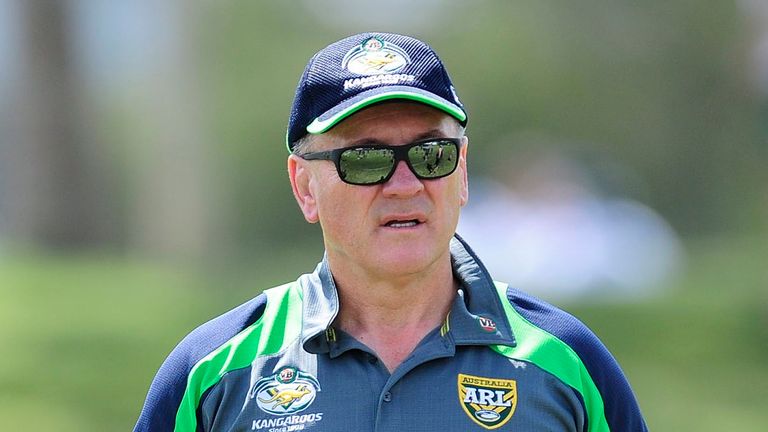 England were stunned by a scratch Italy side last week in a warm-up match, and angry coach Steve McNamara left Friday's press conference early when he was persistently questioned about the surprise omission of James Graham.
On top of that, Gareth Hock was dropped from the squad for a breach of discipline, and Graham is thought to have been left out for breaching an alcohol ban.
Sheens though played down all those incidents and says the return of Ben Westwood - suspended for the Italy game - will offset the absence of Graham.
"Westwood comes into the side and he does exactly the same (as Graham)," Sheens said. "Against Italy England were over the line three times and held up. There was some good stuff played by England in that game.
"We have a high respect for this team. I don't think there will be much in the game.
"I made the comment earlier in the week that an embarrassed side is a dangerous side. Anyone involved in sport understands that when things go wrong, it can have the exact reverse effect.
Focus
"Our main aim is to make sure that our game is right and not expect anything from England except a Test match and that's exactly what it will be.
"They've got some speed. They've got skills, their spine is experienced, they've got a good forward pack, good rotation and I think they will really test us there.
"They have one of the world's best players in Sam Burgess and certainly young Tomkins. I'm sure by the end of a year in the NRL he'll have proved he can do the job in both hemispheres.
"Like us, they are a side with dangers all over the field. Our guys know you can't afford a poor Test match."
Australia will be playing their first match together for six months after declining the opportunity for a warm-up fixture and will be anxious to start with a victory that would in theory enable them to avoid holders New Zealand in the semi-finals.
"Winning tomorrow doesn't guarantee you the final and losing doesn't mean you won't make it," Sheens added. "It's not a win-at-all-costs game but it's an important game.
"You've still got two more games in the pool. If you rise to the occasion and drop off after that, you can find yourself ambushed in another pool game.
"It's our first game as a group for a little while so we want to get out there and get through the fundamentals. Tomorrow is more about attitude and fundamentals than fancy plays."