Rugby League: Legend Steve Prescott MBE has died aged 39
Rugby league legend Steve Prescott has died aged 39 following a seven-year fight against a rare form of stomach cancer.
Last Updated: 10/11/13 2:20pm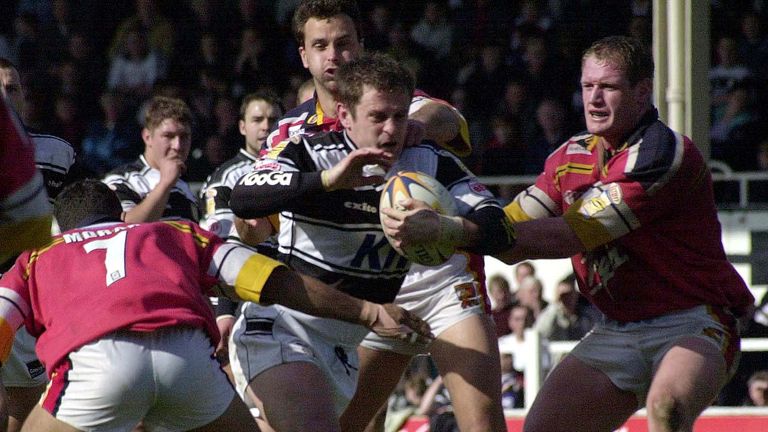 The former Wakefield, Hull and St Helens full-back was diagnosed with pseudomyxoma peritonei in 2006 and given only months to live.
Prescott, who retired from playing in 2004, set up the Steve Prescott Foundation in 2007, which has given nearly £500,000 to good causes.
Prescott participated in the 2000 Rugby League World Cup in England, his last game for Ireland came against England on Remembrance Day at Headingley.
Sadness
RFL Chief Executive Nigel Wood said: "It is with deep sadness that we have learned of the death of Steve Prescott. Our thoughts are with his family at this terribly sad time.
"The word 'hero' is overused in sport but Steve was just that: a role model for every young Rugby League player during his distinguished playing career and an absolute inspiration to all of us off the field.
"Throughout his long illness Steve was never anything other than dignified, noble and brave, not least during his fantastic charity work through the Steve Prescott Foundation which raised hundreds of thousands of pounds for good causes, including the Rugby League Benevolent Fund.
"Steve touched on the lives of a great many people and enriched both Rugby League and the whole of sport with his engaging personality, unselfish efforts and his stoicism in the face of such an aggressive and cruel illness."
Tributes
In 2012 Prescott completed the London Marathon and, following the news of his death, tributes have been pouring in.
England Rugby League said on Twitter: "We are very saddened to hear the news of Steve Prescott who has passed away. You were an inspiration to so many."
"Sad news to hear about Steve Prescott. To live the courageous way he did suffering the illness he had was inspirational. Kind, brave man," said former Great Britain international Jamie Peacock.
Lee Briers, who was forced to retire from rugby league on Friday wrote: "Sad to hear about Steve Prescott. What a legend #inspiration."
St Helens have opened a book of condolence for their former player which can be signed at Langtree Park from 10am to 3pm on Sunday.
It will be situated next to Prescott's Hall of Fame inductees profile in the south-west corner of the stadium where it will remain until being moved to the reception from Tuesday.
The club say it will remain open for a week.