Rugby League World Cup: Billy Slater ready to 'face the music'
Australia star Billy Slater says he will "face the music" after his arrest by police in Manchester.
Last Updated: 12/11/13 3:01pm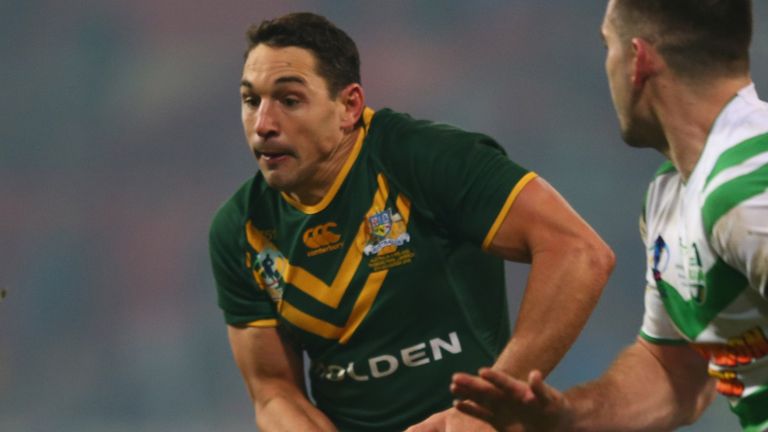 The 30-year-old went to the nightclub on a night out with his team-mates to celebrate their 50-0 win over Ireland when he became involved in a scuffle in the early hours.
The full-back has been released without charge after police said Slater was acting in self-defence but he admits he is expecting to be given a telling off by the Kangaroos bosses.
Slater said: "I've been better, but I'm going OK. I'll put my hand up for my own actions and face the music. I think we've got to be aware of the situations that we find ourselves in. I suppose it's probably a bit of a wake-up call for everyone when we do go out.
"But I hope what happened last night doesn't jeopardise anyone else going out and having a good time."
The incident comes just four weeks after Australia forward Josh Papalii was threatened a knifepoint and robbed of £200 following a late-night drinking session in Manchester.
"I'm disappointed that the spotlight is on this, and not the tournament and the games we've played," Slater said. "I just want to express my disappointment there and move forward.
Situations
"We're over here for eight weeks, and it's important to enjoy and celebrate your wins, but obviously you'd like to stay away from these situations."
Greater Manchester Police said the incident involving Slater took place outside Mojos in Bridge Street, Manchester, following a "verbal altercation" at about 2.40am.
A 40-year-old man from Manchester continues to be questioned on suspicion of affray.
A spokesman for Greater Manchester Police said: "One of the men threw a punch at the other, so the victim retaliated and punched him back in self-defence.
"The police were called and both men, a 30-year-old old man from Australia and a 40-year-old man from Manchester, were arrested on suspicion of affray.
"Officers have now viewed CCTV of the incident and the 30-year-old man has been released with no further charge.
"The 40-year-old remains in police custody for questioning. Anyone with information is asked to call police on 101."