Rugby League World Cup: England full-back Sam Tomkins "devastated" by defeat
England full-back Sam Tomkins was left "devastated" by their last-gasp defeat to New Zealand.
Last Updated: 24/11/13 2:37pm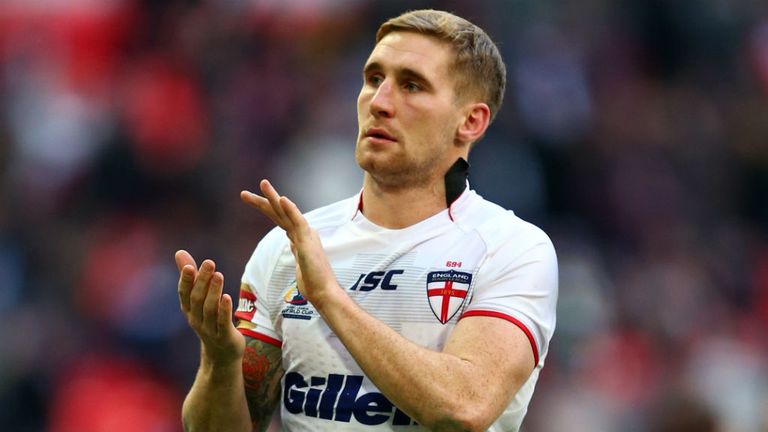 Steve McNamara's side looked to have secured a famous victory in their World Cup semi-final at Wembley.
But a late try from Shaun Johnson, which he converted himself, secured a 20-18 win for the Kiwis to leave Tomkins attempting to look for some positives to take from the game.
"I'm absolutely devastated," said Tomkins.
"To lose in the dying seconds like that is absolutely gutting. That's sport, sometimes it doesn't quite go your way, I've been in games where we've won them like that as well.
"As gutted as I am, I think this group will be stronger for it."
Tomkins feels England are making positive strides, having battled hard against Australia in their opening game of the competition before going down 28-20.
But Tomkins, who was playing his last game in England before joining New Zealand Warriors in the NRL, feels they must play the antipodean sides on a more regular basis if they are to reach their standard.
"We need to look at games like this and realise England need to be playing internationals against the best in the world," he added.
Tough tests
"We need more tough Tests, we are only going to get better that way.
"The Aussies and Kiwis are playing each other mid-season, whereas we have a year off when we are playing Wales and the like and it doesn't help us.
"We're not as consistent as we can be or should be but in big games we've proved that we can compete.
"We competed with the Aussies for the majority of the game and then slipped away and on Saturday it was literally the last seconds. It could have gone either way.
"I think we're in a great position. The structures we've got in place with the England Knights and the ETS (England training squad) tick along nicely and they are going to go from strength to strength.
"Come the next World Cup, hopefully we're bigger, better, stronger, faster and we'll do something special then."
Tomkins' thoughts now turn to the domestic game, where he will be playing alongside a number of players he was battling against at Wembley.
"It's a big challenge, a big opportunity, and some of the boys I played against on Saturday I'll be playing alongside," said Tomkins.
"Hopefully they'll go on and win it (the World Cup) next week."