Super League: Francis Cummins admits Bradford Bulls players could be sold
Francis Cummins admits Bradford Bulls players may need to be sold following revelations of fresh financial problems.
Last Updated: 05/12/13 3:43pm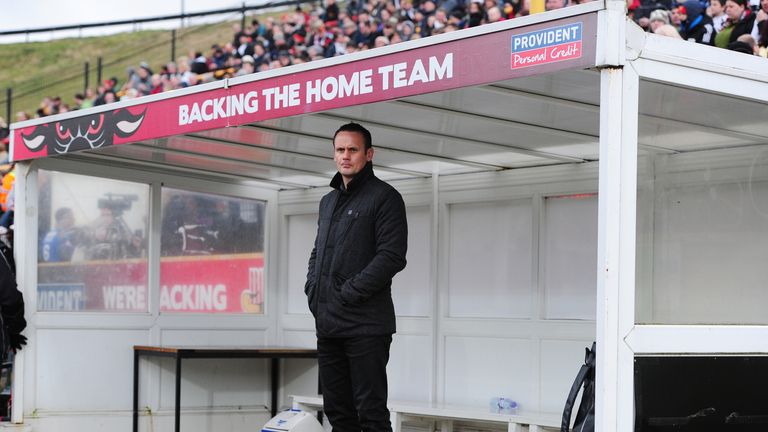 Chairman Mark Moore and fellow directors Andrew Calvert and Ian Watt are now in control of the Bulls, but deals make by the previous administration are now believed to be taking their toll.
The Super League club have revealed £400,000 of savings needs to be made in order to survive, a move that includes staff redundancies and budget reductions.
Bradford sold rising star John Bateman to Wigan last month and Cummins now says that more could follow, but he insists that their younger talent will not be offloaded.
"We're going to have to do what's best for the club and that might be that one or two players move on," Cummins told the Telegraph and Argus.
"If that means that the club can go forward and build then that's what we are going to have to do - but none of the young players will be leaving."
Cummins was assistant to Mick Potter when the club's entire coaching staff were made redundant by administrator Brendan Guilfoyle during the summer of 2012 and believes most of the squad are already accustomed to coping with the off-field issues.
Easier times
"There have been easier times to play, coach and support Bradford Bulls but there have been a lot worse as well," he continued.
"I was here when we were in administration and people were working without pay, so it almost feels better for me straight away.
"I always find that if you know where you are then you can confront it, start making changes and improvements. I think the players appreciate the honesty.
"I told the players that the things we can affect are how we play on a rugby field and, fortunately, most of the squad are battle-hardened.
"They have been through the worst time when we were in administration last year, they went through that wobble earlier this year of getting paid late and then there were all the rumours of administration.
"I think they are probably more relieved than anything that it's not gone to administration and we can kick on, although it's clear the club needs to make some pretty significant savings."