NRL: Steve McNamara believes England will benefit from his Roosters role
Steve NcNamara believes working with Sydney Roosters will improve England's chances of major silverware.
Last Updated: 14/01/14 4:41pm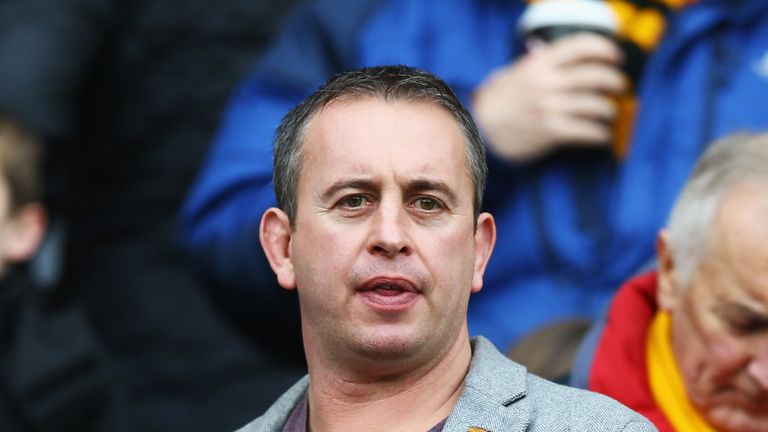 The 42-year-old began his new job in Australia this week and eyebrows were raised when it was confirmed he would stay on in charge of England, albeit in a part-time role, despite the move Down Under.
The 42-year-old former Bradford forward's full-time contract with the Rugby Football League (RFL) ended with England's heart-breaking exit from the World Cup in November but he is keen to build on the progress he feels was made in his four years at the helm.
He will begin his preparations for the 2014 Four Nations Series with a get-together on Thursday with his Sydney-based England players, along with Warrington forwards Chris Hill and Ben Westwood, who are in the New South Wales capital on their club's pre-season training camp.
Although there is unlikely to be a mid-season international this year, McNamara plans to return to the UK in the summer to supervise a training camp and, in the meantime, his assistant Paul Deacon will oversee the continued development of the Super League-based elite training squad, starting with a get-together in early March.
"I think it's a huge advantage for the England national team for me to be out here, based in the NRL," said McNamara. "Obviously there are a fair few of our players are out here and all our opposition are out here so it's a logical one for me.
"The England programme back home is really strong and it's being led by some really good people, from Dave Elliott with the Under-16s to Keiron Purtill and Paul Deacon and the rest of the staff.
Confident
"There are a lot of things in place and I am really confident we can continue driving some of the things that we did over the last three or four years."
England's NRL-based contingent will be increased further this year with the move from Wigan of Sam Tomkins (New Zealand Warriors) and Lee Mossop (Parramatta).
Halifax-born stand-off Gareth Widdop, who has completed a move from Melbourne to St George Illawarra, and South Sydney's trio of Burgess brothers will be reunited on Thursday with their coach for the first time since England's last-minute 20-18 semi-final defeat by New Zealand at Wembley nearly two months ago.
McNamara is still coming to terms with that gut-wrenching defeat but already has one eye on the next task, the Four Nations, which will be held in Australia and New Zealand in October and November.
"That's going to stick in our stomachs for a long period of time but you've got to move on," he said. "You've got to look at what's next for the group and the next challenge is to try and win a Four Nations on foreign soil.
"I'll be honest, I think that will be an even bigger achievement than winning the World Cup on home soil. It's a really tough ask but we're hell bent on giving ourselves the best opportunity."
McNamara, who gave up his job as head coach of Bradford to succeed Tony Smith in 2010, is delighted to return to the daily grind of club coaching and has no qualms about being an assistant to former Catalan Dragons boss Trent Robinson, a man six years his junior.
No ego
"I've got no ego whatsoever," he said. "Trent is a great friend and a great coach. He's got some great staff around him and it's a great opportunity for me to be involved with them.
"I've come to a great club and it's a great part of the world to be in, particularly at this time of year."
McNamara had been linked with a switch of codes, with Bath reportedly making him an offer to become their skills coach, when his contract with the RFL ran out.
But the ex-Hull player, who had brief spells with St George in 1991 and 1993 and toured Australia with Great Britain in 1992, has long held an ambition to coach in the NRL and admits the Roosters' job offer was too good to turn down.
"I managed a little crack at it as a player and I've had various other trips," he said. "The opportunity to coach in the NRL was something I really wanted to do before my career was finished.
"I wouldn't want to speak specifically about any other opportunities. A couple presented themselves but there was opportunity to come to Sydney and I had a bit of unfinished business with England as well.
"We got so close in so many ways and, wondering what could and might have been, I want to have another opportunity at that as well."